Ian Hunter & The Rant Band – When I'm President
aaamusic | On 02, Sep 2012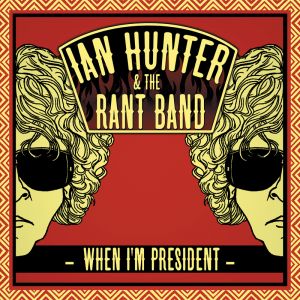 Despite the album title, legendary frontman Ian Hunter claims that his latest effort, 'When I'm President', is a less political, more cheerful affair than his last two releases. And while this is far from a collection of sunny pop cuts or an album that will definitively make Hunter's recent career, I can safely say that it is a diverse, emotive, and highly enjoyable wander through the grizzled heart and soul of rock n roll.
The majority of the songs of the album are the chilled-out yet full-of-life musings of an old-school rocker, one whose roots are found in blues bars and Little Richard records. To kick it off, the snappy 'Comfortable' does a silken rendition of the seductive side of rock n roll, immediately setting the tone of the album: the whole release centres around the ageless mind of the rocker, creating a persona for the lyrics to follow that suits the sophisticated yet sparky old-style rock n blues. 'Fatally Flawed' is where the "life experience" hits, as things slow to a ballad that contrasts the forever-young tone of the first track with a powerful rock number that dwells upon the shortcomings in life and reality. Title track 'When I'm President' is a wistful, faintly jangly number, a melancholic reflection of the old 60s rock sound and 50s teenage misfit blues played with an aged soul, young mind, and a sunny, almost psychedelic pop guitar tone.
There are purely cheerful melodies in there, like the upbeat playfulness of 'Just The Way You Look Tonight', which uses a country-blues instrumental arrangement and a simple riff to hold together its sweet, lovelorn tale that sounds as fresh and earnest coming from Hunter as it would any younger artist, even when the chorus gets a little too repetitive.
The deepest mood is to be found in the brooding 'Ta Shunka Witco', where the energy of the preceding tracks is taken and channelled into a nearly six minute long cross between moody political rock and The Cult's 'Dreamtime' era fascination with Native American culture, although Hunter provides a much more grounded look at it, focusing on the decline of that world and the stereotypes of a romanticised way of life with a steady plodding drumbeat and a mesmeric, almost trancelike guitar presence that barely shows up behind Hunter's hushed, half-spoken-word-half-lament vocal style, and the track builds to a stirring instrumental climax. This leads with an oddly smooth grace into the swaying barroom song 'I Don't Know What You Want', which yowls out gruff frustrations to the slick backing of a quality set of rock n roll musicians: slowdance drums, honky-tonk piano and a snappy, distorted guitar that would put any Rolling Stones number to shame.
To close it all, the tender ballad 'Life' distils what is scattered throughout the album: a zest for life and a musing on what it means to grow older and experience life. Trite as that sounds, and as trite as the melody and instrumentation may get, the sheer earnestness of the song and its simple yet effective heart-on-sleeve lyrics and musicianship mean that in the end what wins through is its ability to stir a genuine feeling or two, and perhaps even a serious thought.
'When I'm President' is not the kind of record that will create an overnight sensation, but with its mature but passionate approach to a timeless rock n roll sound that holds echoes in everything from The Beatles and Elvis through to The Quireboys and even The Wildhearts, and with its crystalline production, excellent musicianship, energy, and thoughtful lyrics, it speaks of a life lived in rock, and more importantly of a lifelong love of music that offers solace and a smile to any who listen to it.
Katie H-Halinski