House of Hats – Rivers Will Run
aaamusic | On 03, Sep 2012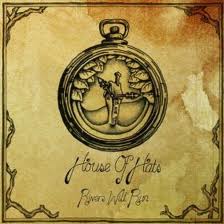 After a superb opening track, this new EP from House of Hats sadly goes downhill thanks to an over-reliance on sentimental ballads and unimaginative, repetitive songwriting.
The opening title song is an atmospheric and alluring folk number, imbued with country, blues and even slight hints of psychedelia, thanks to the lingering opening and closing chants, and sliding pitch guitar effects. Warm soft vocals, a prominent driving bass line and undulating acoustic guitar effectively compliment the heady mood of the harmonies. These elements all combine for a splendidly evocative and intelligently constructed musical narrative.
Second on the EP is Gold, a slow ballad, far more static in its use of simple, non-adventurous harmonies and repetitive instrumental figurations, and ultimately less characterful and creative as well. Sentimental to the point of cheesy, it's not my cup of tea at all, but will appeal to those who like their love songs unabashed and soppy.
Never Lost follows suit in a slow and simple style, but avoids straying too far into mawkish territory thanks to a subtler harmonic approach. Repetitive acoustic guitar arpeggios provide an attractive foundation for the picturesque melody, cloying harmonies and typically earnest vocals. The song grows as it progresses, piano and harmonica entering to build up the texture and emotional momentum, nicely augmenting the gradual unenvelopment of the harmonic scheme.
The rather mushily titled Home Is Where the Heart Is follows, opening with a chordal piano setting which provides an enjoyable contrast to the hitherto guitar dominated songs. Unfortunately, the song is somewhat forgettable from this point onwards; another sentimental ballad, it is competently executed and not unpleasant to listen to, but lacks the necessary distinct charisma or originality to truly stake a place in the memory.
The fundamental problem with this EP seems to me to be an issue of balance. After a wonderfully moody, musically diverse opening number, what follows are three essentially acoustic ballads; all very similar in style and execution (minus the final track's use of a predominantly piano based texture) and none of them as memorable or sophisticated musically as song number one. This is a shame, and I hope the band show a bit more panache and imagination on their next work, using greater levels of contrast and colour in order to keep things interesting.
Rupert Uzzell