Metronomy – Late Night Tales
aaamusic | On 03, Sep 2012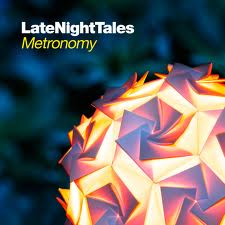 The latest in the Late Night Tales series, one dedicated to our favourite artists' late-night soundtracks, is compiled by Metronomy and its main man Joseph Mount. The Mercury Prize-nominated band's compilation tiptoes its way from pop experimentation through to electronica and hip-hop, genres which have all shaped the music sensibilities behind Metronomy's daring sound.
Prototype by Outkast kicks things off; it makes for the perfect opener with its smooth, delicately funk vibe and down-to-earth genius of its lyrics. It wouldn't be late night if we weren't dealing with mild inebriation, so in comes the tingling charm of Drunk, by Tweet – followed by the mental voyage of Cosmic Ball by hip hop visionaries Sa-Ra Creative Partners. The slightly surreal, gravity-defying atmosphere thus created stays on throughout the album, although under different shapes and forms.
Metronomy's own (brilliant) cover of Jean-Michael Jarre's Hypnose introduces an infectious pop streak, with uplifting, gigantic tunes such as The Alessi Brothers' Seabird and The Alan Parsons Project's sublime Eye In The Sky – juxtaposed to the infallible Autechre number (Fold4, Wrap5). A genial Love Caboose by Geneva Jacuzzi starts the insanity again, followed by the disquietingly majestic electro-pop by the likes of Two Lone Swordsmen and Tonto's Expanding Head Band. In yet another turn for the pop, iconic women such as Kate and Anne McGarrigle and Cat Power are presented, along with the stunning Winners Lose by French duo Herman Dune. As is customary for the Late Night Tales series, a spoken word story (this time voiced by Paul Morley) brings this journey between the sinister and the sublime, the odd and the classic, to a close. Metronomy's identity as a band could not have come through more strongly; which makes this compilation, as well as authentic and superb, an utter success.
Chiara Amoretti