VITOR PEREIRA QUINTET – Doors
aaamusic | On 10, Sep 2012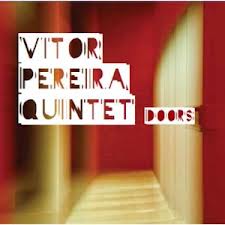 Portuguese guitarist Vitor Pereira moved to London in 2004 to study jazz under Stuart Hall and Mike Outram at Middlesex University. He's played with well-known figures like trumpeter Dave Smith and bassist Will Collier.
His quintet contains some of London's most respected contemporary artists: Chris Williams (alto sax), James Allsopp (tenor sax), Ryan Trebilcock (bass) and Eddie Hick (drums).
Doors is released on 17th September, 2012 on F-ireRecords. It's his first album as a band leader and it contains his original compositions.
Coffee Break is a refreshing, experimental number which immediately demonstrates the group's considerable talent. The rich and harmonic Andancas gradually increases in intensity to create music which is imaginative and colourful. The Machine oddly mixes adventurous rhythms before a rather strange, mechanical ending. In the latin number Outra Paragens light and shade are beautifully contrasted and Doors is a heady, vigorous song with an abrupt climax. The free moving and innovative Leading to Something creates many different moods through interplay and instrumental breaks.
The 'doors' in the album's title are psychological ones which open to take in various moods and influences: nu jazz, rock, world, classical and Portuguese. These are hard, punchy and vibrant songs which abruptly introduce loud, grungy sequences. But there are also quiet, mellow moments, where the music takes on a calmer, softer and simpler quality. Pereira is an expressive musician with strong, intelligent, and articulate solos. Combined with the impressive qualities of his fellow musicians, they have made an ambitious, passionate and inspirational album.
Track List: Coffee Break, Andancas; Reviravolta, The Machine, Outras Paragens, Doors, Leading to Something, Last Link in the Chain.
Anthony Weightman