OCM Showcase – Live @ The Pegasus Theatre (Night 2)
aaamusic | On 09, Jul 2013
Saturday, 29th June
For a second summer evening, the originality of composition helped select five bands for this open event for youth, a showcase of new music presented with the help of Oxford Contemporary Music and BBC Introducing In Oxford.
Singer songwriter Samantha Jayne sung quirky and beautiful acoustic songs that were 'a little bit weird', but she's described as 'amazing' and 'fantastic' by her You Tube fans. As her lyrics proclaim, she's learnt 'how to fly' and it's unlikely we've seen 'the last days of summer' from this joyful artist.
Too Many Poets played indie music inspired by The Foals, Arctic Monkeys and The Smiths. They perform an interesting version of Land Down Under by the internationally acclaimed 1980s Australian band Men At Work.
Reuben's Rocket, a soulful indie acoustic song writing project, had well produced songs and some good choral vocals. They've a distinctive character and personality of their own and are constantly seeking new directions for their music.
The penultimate act, five piece rock band Balloon Ascents, were vibrant and exciting and there were visual similarities to a young Rolling Stones, curiously on stage simultaneously in Somerset at the Glastonbury Festival.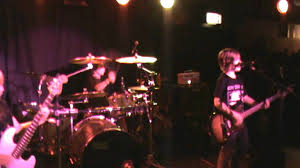 Alternative grunge band Weatherwax recreated the raw Seattle sounds of the 1980s. Inspired by hardcore punk, heavy metal and indie rock, it had typically distorted guitars and anguished lyrics but, against the conventions of grunge, they kept some visual theatrics.
This was the third OCM Youth Open in search of the next generation of young musicians. It's important that talented young musicians have the help that they need to reach their potential and also the opportunities and encouragement that help give them confidence. It was excellent that all artists here were mentored and tutored in the lead up to the showcase to learn everything they needed to know in staging their own gig. 
Anthony Weightman