Oxford Contemporary Music Showcase – Live @ The Pegasus Theatre
aaamusic | On 02, Jul 2013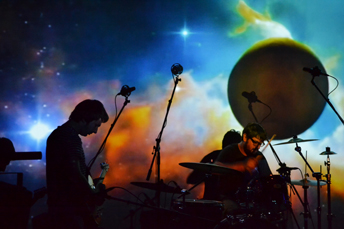 Oxford, Friday 28th June
It was the originality of composition which helped select five bands for this summer open evening, a showcase of new music presented with the help of Oxford Contemporary Music and BBC Introducing In Oxford. The entertaining BBC presenter Dave Gilyeat hosted the evening.
Opening act Rainbow Reservoir, had the intelligent lyrics of Angela Space, the vocalist and international classical saxophonist, but here she played a minimalist electronic keyboard. She has rich, folk influenced compositions that are curious and her comical Creepy Kissing was beautifully sung. Her whimsical songs are inspired by artists like Eels, Kimya Dawson and The Magnetic Fields.
Independent recording artist Jack Bushrod, who melodically merges rap and hip hop, is very talented and a has a great passion for music. In the past he's supported acts such as Professor Green and Faith SFX. With strong vocals and great song writing abilities, he's becoming increasingly popular.
Kid Kin is the cinematic instrumental music of Peter Lloyd. His ambient 'dreampop' merges electronic soundscapes with rock and piano solos and he adventurously seeks new sounds and styles to create new material.
Lee Riley, an improviser and experimental artist, distorts his sounds by layering cyclical drones with electronics to create intriguing live performances. His background lies in photography, the visual arts and graphic design and he visualises sounds by building untraditional installations that stimulate the imagination.
Concluding the evening were alternative rock artists Kill Murray who have searched a diverse and eclectic range of influences to create a distinctive identity of their own. They're inspired by Pavement, LCD Soundsystem and Metronomy.
The standard of performances at The Pegasus Theatre were extremely high at this sixth OCM open evening. Previous evenings have included the critically acclaimed Duotone who went on to perform with the Eliza Carthy Band, so clearly there's been considerable thought and foresight to past planning. These fine acts were hugely enjoyable, but I was left wondering what interesting open evenings I might have mistakenly missed at The Pegasus Theatre in previous years!
Anthony Weightman