Gordon Giltrap & Raymond Burley – Live @ The Icknield Community College
aaamusic | On 12, Jul 2013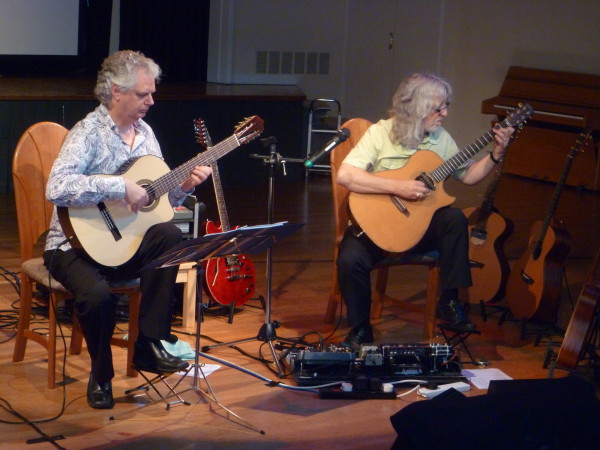 Saturday 6th July, Watlington
Gordon Giltrap is an innovative acoustic guitar player and composer whose musical styles embrace folk, blues, rock, folk rock and classical. He's developed his own distinctive style of playing which is difficult to categorise, but influences include Hank Marvin, Eric Clapton and Pete Townsend together with folk guitarists Bert Jansch and John Renbourn.
Experienced classical guitarist Raymond Burley has performed solo concerts, concertos, on film scores, radio, television and almost every possible ensemble combination. He's toured extensively throughout the UK, Europe, the USA, South America, Canada and the Far East, appearing with many UK orchestras.
As a duo Gordon Giltrap and Raymond Burley form Double Vision and they held a classical guitar concert in aid of Friends of Watlington Library on July 6th, 2013 at Icknield Community College.
When they performed 'Maddie Goes West' the duo seemed to make complex guitar work look so easy. Gordon's much loved hit single 'Heartsong', the energetic theme for the BBC's Holiday programme, was once nominated for a prestigious Ivor Novello award. In the multi-layered 'Dodo's Dream', Gordon created digital loops which built into an impressive solo orchestra and he shared a wish that the charming 'Rainbow Kites' would someday be played by Julian Bream and John Williams. The Picnic, from his Troubadour album, written for the musical Heathcliffe, also formed part of this exciting set.
On this warm summers' evening a solitary ant was seen crawling over their set list and it could have triggered an amusing philosophical discussion about the meaning of life, but the audience wasn't going to be diverted from the music. Gordon joked that they 'should be in the garden with a barbecue', but I suspect few would have wanted to miss the joyous cover version of George Harrison's 'Here Comes The Sun'. I also loved his absurd story about meeting Jim Marshall (of the famous Marshall Amps) who presented him with a signed bird table he had made. Bizarre but true. It was refreshing to be in the company of talented musicians who didn't take themselves too seriously.
Anthony Weightman