AAA Music Approved: Deathcrush
aaamusic | On 19, Sep 2013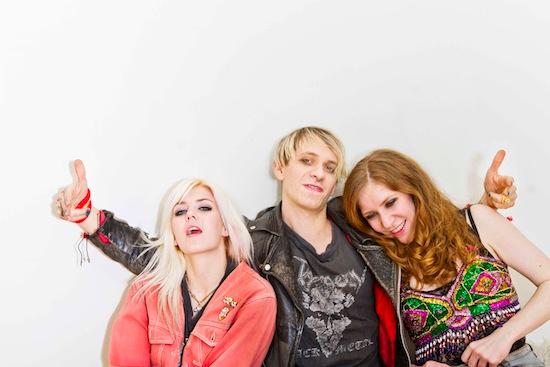 AAAmusic: Who are you and where are you from?
L: Åse and I left our jobs and boyfriends and moved cities just to play with our old drummer, ended up forming Deathcrush, and taking him back to Oslo. Vidar, who was then a part of original Årabrot, joined last year. It's important for us to have three equal members when we make music, so the "he's only the drummer" clishé doesn't work for us. Åse mainly plays bass, Vidar drums and I guitar, but in the songwriting process and also for some songs on stage, we swap instruments or come up with ideas for each others parts.
AAAmusic: What inspired you to get into music?
L: Growing up, there was never a question in my mind, I wanted to be in a band, making music, playing live. When it finally happened, Åse and I didn't have a plan for what kind of band we were going to be. Hey, we didn't even know how to actually play. We just fiddled around with our guitars and fx-boxes 'till we found the sounds we liked. We didn't know the rules, and didn't care to learn them. I didn't even have a favorite band. I loved music, but was still searching, if you will. Really, we were clueless about all these amazing bands that shared our way of thinking about music. Our old drummer thought it was ridiculously funny how where he'd had a band for every sound he wanted to try out, we'd spent a song on it. In fact, most of the bands I listen to today, are bands that people said they could hear we were inspired by after seeing us live, but we had never heard of. Finding out about all this great music in that way is both like striking gold in terms of inspiration, and a huge compliment. Then again, if I had heard Theoretical Girls or Chrome at a younger age, I probably would have picked up a guitar much earlier…
Genre-wise, we've settled on Noise Rock/No-wave, because it says something about our basic sound and philosophy when it comes to making music. But of course there are elements of hip hop, classic pop, metal, anthems – everything that we listen to.
AAAmusic: What have you done?
L: We're proud of having finally released our first single! But we're also proud that we were able to play live for so long purely based on our live performances. Actually, we'd become so used to people having to come to our gigs to hear us, now I feel proud when someone compliments us on our music — purely based on our recordings!
Strong songs can deal with a high impact live show. If our songs were secondary it would never work. Not live, not in the studio. We're full on when it comes to our music, and also work hard at all sides of being in a band. We like creating our own posters, covers etc, cause its all apart of our expression as a band. But it's great working with people who are on the same page too of course.
AAAmusic: What are you like live?
Å: Well… I know at least one guy whose DC fandom comes from Linn stepping on him during a gig. And this tiny girl from up north in Norway attacked us at Parkenfestivalen saying she'd got a concussion from our Træna Festival concert, in her first ever moshpit. She seemed happy… At least we've only received invoices for broken mics, no medical bills so far.
L: How physical we are live doesn't come from planning, it's how we are. Luckily people seem to enjoy it! I mean, Vidar grew up on Kiss, I on Van Halen, how could we possible stare at our shoes just because we play noisy music?
We get some pretty crazy comments from people after our shows, like they've lost a few boundaries, which makes us happy. I tend to get up close and personal with the audience. I guess I don't see why there should be this distance between us. We're all in a room together, there is no wall between us, so why should we all act like there is. Playing live is about letting go. There is too much thinking, evaluating in everyday life. On stage you just react. It's very primal. Getting down to basics. I think people need that in their lives, however you achieve it.
Å: A definite highlight was when Sleigh Bells invited us along to The Netherlands and Belgium after we played with them in Oslo, onto their freakin' nightliner!
L: Waynes World — Party Time haha!
Å: And when Trentemøller sent us an email, asking us to open for him in the sold out tour finale in Copenhagen. We had to double check he'd sent the email to the right band!
L: We're not electronic, but he was right about us being a good match anyway. The mood in the audience was great! Roskilde was also a amazing. Childhood dream, you know.
AAAmusic: What makes you different?
Å: A common reaction from people after our show is "I loved your gig, and I don't usually like this kind of music!"
L: Without planning to – we never really discussed what sound we were, or are going for – we ended up with a sort of pick-n-mix sound, where different audience members seem to to connect with different sides of what they hear. When we play, we see metal heads, hip hopers, indie kids, noise fans, all sorts of different people. All bands are a mix of their own personal reference points, but because we don't set restrictions for what goes with what, maybe it's more obvious in our music, I dunno.
Å: I guess that's why we've been chosen as support for all kinds of acts. Melt-Banana or Vivian Girls; doom, trash, hardcore, noise, indie-pop…
AAAmusic: Physical vs Downloading vs Streaming…How do you listen to music?
L: I don't think any of us have bought a CD in the last… maybe eight years? Ten? I love vinyl. It's pleasing to the ear, and the sleeves are pieces of art. Combined with a high-quality digital download for your headphones or backstage, it's the best of both worlds. The fantastic feeling of a physical record you can hold in your hand, and the accessibility and ease of digital. Åse and I were actually the first in Norway to release vinyl including digital download codes years ago.
Digital downloads would have had a better reputation and could also have made artists more money, if the record industry hadn't thrown away valuable time trying to stick to their old ways, instead of giving people good options to pay for their music. But as more services are introduced, and people are given a better way to pay, the trend is turning. People do want to support their favorite artists.
I pay for my Spotify, but I would like to see more money go to the artists. As a mid-way solution, both because I love it as a medium and as a sort of band-aid for listening to artist through Spotify, I buy the vinyl edition if I like what I hear. It's important to give back to artists so they can continue working. We don't do it for the money, but we have to pay for rehearsal spaces, strings, food. The more time we spend at our day or night jobs, the less time we spend making music to share with our audiences.
AAAmusic: What have you been listening to?
L: We all love Danny Brown. He's cheeky, fun and always sets the mood for a good night out. Vidar and I have a DJ concept called FAAACK OSLO, and we tend to play a lot of hip hip mixed with rave like Die Antwoord, old skool stuff like NWA and  childhood favorites like Dr. Dre, mixed with Ministry, Slayer and New York No wave and disco like DNA, Liaisons Dangereuses and James Chance.
AAAmusic: What are your aspirations for the future?
Å: Our ten-year-plan includes playing Madison Square Garden before it's demolished. Short term, we're continuing our single series. Linn is doing finishing touches on quite a few mixes now, songs we had a blast recording in TNT's studio in Norway, with Billy Anderson (Swans, Melvins +++).
We've got two great music videos lined up, and will continue making videos and limited releases for the coming singles. The autumn sees us hitting the road again and we're looking forwards to some proper touring over the next year!
Questions answered by: Linn Nystadnes and Åse Røyset of Deathcrush…