Camp Bestival & The Art Of Chilling…
aaamusic | On 16, May 2014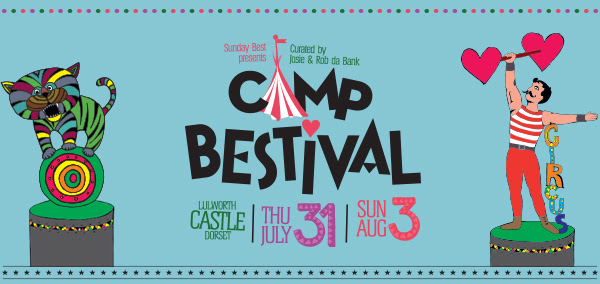 CAMP BESTIVAL AND THE ART OF CHILLING
FROM DAVID LYNCH'S TRANSCENDENTAL ADVENTURES TO THE SOUL PARK
CAMP BESTIVAL IS THE ULTIMATE CHILL FEST
FEATURING:
THE DAVID LYNCH FOUNDATION / TIM PEAKS /
THE SOUL PARK 
This year's Camp Bestival has myriad industrious activities to keep you on the qui vive all weekend long, but what if you fancy some more relaxed pursuits and easygoing affairs? Well, you're in luck, as you can seek revitalising repose in the Soul Park or get transcendental with the David Lynch Foundation, all within the grounds of the magical Lulworth Castle this July 31st – August 3rd.
Camp Bestival ringmaster, Rob da Bank, says: "I'm always wandering across the grounds of Lulworth Castle every day during Camp Bestival checking things out making sure everything is running ok and I'm always amazed at just how chilled out and peaceful the Soul Park is. It's like being in another world and I can't deny that I'm a bit envious of everybody enjoying the massages and meditations while I'm running about! We've got the David Lynch Foundation back there again and this year they're bringing Tim Peaks too, so if you're after somewhere calm to take a breather make sure you head to the Soul Park and relax." 
Escaping the Circus let's turn our attentions to matters of the spirit, with the Soul Park, which makes an expansive return to Camp Bestival in 2014, with a potent mixture of soul searching, cleansing activities, a mini stage with a medieval twist and lashings of organic indulgences, culminating in the skill of chilling.
We're extremely pleased to announce that the wonderful David Lynch Foundation (DLF) will be joining us at Camp Bestival with an area for meditation and talks in the Soul Park. Better yet, the DLF are teaming up with Tim Burgess's brilliant David Lynch inspired project, Tim Peaks, which will offer tea, coffee and cake, so you can chill out in the David Lynch Foundation yurt! All proceeds raised will be going towards the David Lynch Foundation charity.
David Lynch told us: "I am very happy that the David Lynch Foundation is back at Bestival and Camp Bestival again. The David Lynch Foundation raises money to bring Transcendental Meditation to whoever wants it. Transcendental Meditation brings transcending and transcending means experiencing the ocean of the sweetest nectar of life. Experiencing this brings a multitude of benefits for the human being."  
To learn more about the David Lynch Foundation and Transcendental Meditation visit the lovely people at the DLF yurt in the Soul Park and have a special cup of Tim Peaks coffee.
The only space at the show where escape from the hustle and bustle is guaranteed, the Soul Park is a great place for families to hang out and be enriched. Open all day on Thursday, you can join in with the Camp Bestival Opening Ceremony at 7pm, the area also boasts the Soul Dome, a 360′ immersive cinema which has a full programme of kid's short films, and mind expanding and immersive 'audio/sound baths'. While the kids bliss out in the 360 cinema or relax in a hammock, or have a go on our new trapeze you could visit one of our qualified practitioners. Reiki,Shiatsu, Reflexology, Thai massage, Acupressure, Holistic andAromatherapy will all be available for booking onsite.
Why not visit our new 'Camp Spa', the ultimate Spa indulgence, to enjoy a luxurious facial, foot soak, hand massage and sauna. Camp Spa treatments and packages can be pre-booked for you or your loved one – for prices and availability just click here.
If you fancy some calm that involves less lying down, then there are many and varied workshops: Yoga and Chi Gung sessions for all abilities every day. Take the family on a Soul Journey through the elements, guided by the 'Soul Fairies' with free craft making/interaction every step of the way. You can lie in the dappled sunshine under the old oak in our Tranquilitree and at night join us by the campfire for some wonderful song.
There will also be the brand new Mini Castle Stage with a mixture of chilled tunes to accompany the soulful feel of the area, along with a fancy line up of bands, bards & medieval games, there will also be circus workshops run daily created by the Autonomous Circus Collective and the all new Unfayre Funfayre for all the families enjoyment. And if all that's worked up a thirst, you can get a steaming cup of tea or an ice-cold drink from our 'Peacock Pavilion' sit-in café.
Offering a bit of peace and love for the mind and body head to the Soul Park for all your relaxation needs!
Running away to the circus? Get the low down here: – websiteand our Facebook and Twitter.
Camp Bestival 2014 takes place at Lulworth Castle, Dorset on31st July to 3rd August.
Camp Bestival 2014 tickets are available now via: Ticketline / 0844 888 4410