Shrewsbury Folk Festival Close To Selling Out!
aaamusic | On 19, Jun 2014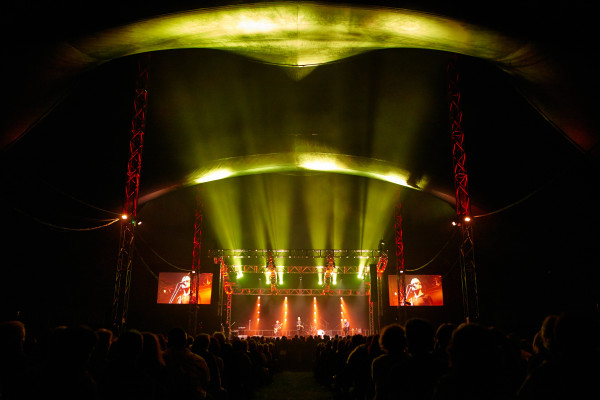 Shrewsbury Folk Festival announces final headliner as earlybird ticket price deadline approaches
Shrewsbury Folk Festival has announced its final headline act for this year's August event – Canadian band Blackie and the Rodeo Kings. The Juno award winning group is flying over specifically to perform during the four day festival from August 22 to 25 at the West Mid Showground in Berwick Road. The group joins Bellowhead, Lau, Seth Lakeman, The Full English and BBC Folk Singer of the Year Bella Hardy on the line up.
Festival director Alan Surtees said: "I am delighted that we've managed to entice Blackie and the Rodeo Kings to Shrewsbury, it's a real coup.
"Although some UK audiences may not be overly familiar with the band, they are incredible live and will add even more variety to our amazing line up. Our audience knows that we always provide an eclectic and interesting line up where they can discover new artists as well as hear old favourites."
Also on the bill are The Dhol Foundation, John Jones – festival patron and lead singer of the Oysterband, Four Men and a Dog, Karine Polwart, Martin Simpson, Miranda Sykes & Rex Preston, Andy Cutting, Huw Williams & Maartin Allcock, Moulettes, the Steve Tilston trio, Megson, the Duncan McFarlane Band, The Wilsons and The Young'uns.
The festival's other patron, Steve Knightley from Show of Hands, will bring his Wake the Union show, which will see the group's most recent album performed in its entirety – an exclusive show just for Shrewsbury Folk Festival.
Coming to the festival for the first time will be Molotov Jukebox, a six piece band headed by actress and musician Natalia Tena, who played Nymphadora Tonks in the Harry Potter film series and has also starred in Game of Thrones.
Other artists include Sunjay Brayne, Steve Turner, The Harvesters, Carole Palmer & Maria Barham, Sue Brown & Lorraine Irwing, Cupola, and Take Two
Former Wailin' Jenny, Cara Luft from Canada will join the foreign artist contingent with fellow countrymen, singer songwriter J P Hoe, and duo Matt Gordon and Leonard Podolak also appearing. Toronto based duo Madison Violet, which was forced to pull out at the last minute in 2012, will also perform.
The festival has five music stages, a dance tent, dozens of workshops, a children's festival, youth programme for 11 to 20-year-olds, onsite camping, a craft fair and food village, including real ale bars.
An adult weekend ticket will rise by £15 from April 1. Day tickets start at £32.50 for adults.
Children under four go free and family tickets are available. Onsite camping is available to all weekend ticket holders with prices held to the same as this year at £20 per adult.
The last remaining tickets can be booked through www.shrewsburyfolkfestival.co.uk or direct at www.gigantic.com/shrewsburyfolkfestival.