Matthew Halsall & The Gondwana Orchestra – Live @ St. Barnabas
aaamusic | On 18, Jun 2014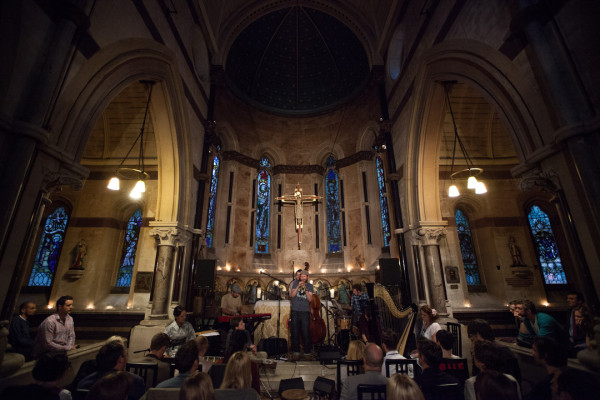 Monday 16th June, London
Tonight's concert was as much about the venue as it was the music. The House Of St. Barnabas' chapel is hands down the most beautifully ornate and peacefully intimate venue I've ever had the pleasure of witnessing live music in; the perfect place to host the launch party of Matthew Halsall's most transcendent album yet.
Halsall, despite only performing in the capital from time to time, has been quietly prolific since releasing his debut Sending My Love in 2008, following it with three other albums under his own name, all on his own label Gondwana Records (also home to GoGo Penguin and Mammal Hands). His live band has, over the years, been fleshed out from a trio to a quartet, quintet and now, an eight-member 'orchestra'. His new album, entitled When The World Was One, is attributed to Matthew Halsall and The Gondwana Orchestra, which features harp, flute and koto (a traditional Japanese instrument) alongside piano, double bass, drums, sax and Halsall's trumpet.
Tonight, after Halsall's right-hand man Taz Modi – from Submotion Orchestra – treats the audience to a solo piece of Alice Coltrane music on piano (well, a keyboard), the eight-man band cram into the front of this pristine chapel that accommodates just 100 guests and is predominantly lit by scores of atmospheric candles. Notable new faces in the Gondwana Orchestra (players who neither contributed to the album or their last London performance at Kings Place in February) include Jordan Smart on sax from Mammal Hands, who replaces Nat Birchall, and Matt Davies on drums, in for Luke Flowers.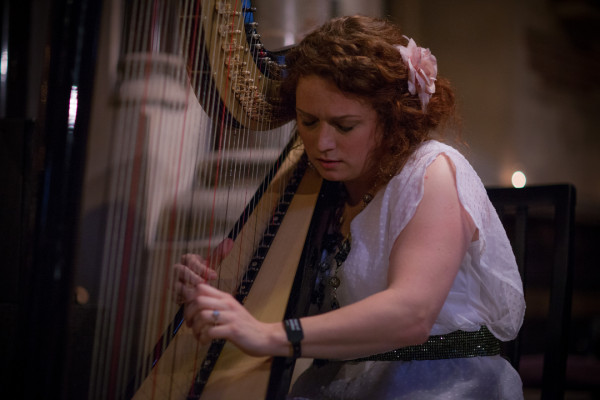 The acoustics are pretty much perfect tonight, and compared with their Kings Place show, Halsall and co. are armed with a newfound intensity, though one that is carefully controlled. Musically, the tone is typical Halsall: contemplative and melodic, heavily inspired by '60s spiritual jazz. Dynamically, however, this is relatively new territory for the Mancunian composer and performer: though he has been partial to a bit of harp in the past, the new songs are not just decorated with harp, koto and flute, but often anchored in their sounds. Whereas past performances flirted with oriental themes, tonight's concert has Halsall's beloved Eastern jazz sounds front and centre. Often they are meditative, such as on the sprawling, dreamlike soundscapes of 'Tribute To Alice Coltrane', featuring delightfully delicate harp from Rachael Gladwin; elsewhere they are drama-filled, almost epic, such as on 'Kiyomizu-Dera', with Keiko Kitamura demonstrating a hypnotising grasp of her Koto. Some of these more dramatic moments bring to mind the fleshed out, world-laced jazz of McCoy Tyner.
The fresh blood excel this evening, perhaps giving the band that aforementioned, newfound intensity – 'Falling Water' features some sublime, quietly off-kilter brushes from Davies as well as some quick-fire saxophone from Smart, which though erratic is far from jarring. Matthew Halsall's trumpet sounds mighty fine, as always, as the bandleader grants himself marginally more solo time than usual. They end with title track 'When The World Was One', a sultry oldschool jazz number which best showcases Halsall's solid and emotional trumpet lines: perfectly pitched and painfully precise, it's like his instrument is in complete control of himself as the musician, never allowing the trumpeter to meander far from the tuneful melodies. A particularly special evening of music from a particularly special talent.
Words: Clive Paris Rozario
Photos: Tom Oldham
This event was part of Journey To The One, the Summer Jazz Series presented by The House of St Barnabas and Paul Bradshaw, former editor and publisher of Straight No Chaser magazine. For more info. please visit The House of St Barnabas site by clicking here…
The next event in this series is: