Lindsey Stirling – Live @ One Mayfair
aaamusic | On 30, Jul 2014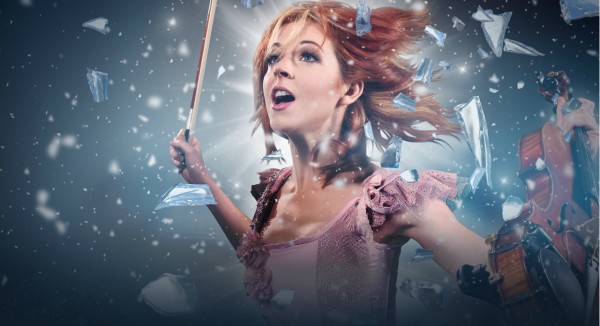 Wednesday 23rd July, London
'Dancing violinist' Lindsey Stirling, composer and musician, plays and performs energetic choreographed dances. She fuses hip-hop, classical and electronic dance music and on YouTube she's achieved a huge 675 million views. Her second album Shatter Me was released in the UK in June, 2014.
At this personal and intimate showcase evening for music media and devoted fans, Lindsey Stirling performed the fiery 'Shatter Me', the story of a ballerina who longs for someone to break the glass globe that surrounds her so she can be free, only to discover that she is the only one who can do it. 'Beyond the Veil' was another soulful song about self-discovery and 'Roundtable Rival' had  heavy bass beats. The favourite number 'Crystallize' showed her playful passion towards music and dance.
Lindsey was originally trained in and inspired by ballet. Performing here, she bounced around with a friendly smile. She held the violin with her firm left arm and her whirlwind body leapt, swooped, kicked, twisted and spun throughout the stage. When I chatted with her earlier in the day she seemed just as natural and spontaneous as she was on stage. I was delighted she hadn't lost that 'kid in a candy shop' personality and she assured me she still had the same appetite for new colours and flavours.
Some reviewers will continue to be puzzled and mystified by Lindsey Stirling, possibly complaining that she's just too cute. But, because she's shown huge talent and commitment in the past, she's successfully fought off her critics and I guess she'll probably do so again in future.
Lindsey's European tour begins in October, 2014 and includes London and Manchester. Click here to see more details…

Anthony Weightman