A CHAT WITH: NILS LOFGREN
aaamusic | On 27, Nov 2014

American songwriter, rock musician and recording artist Nils Lofgren is also a multi-instrumentalist. He's well known for his work with Neil Young and Ringo Starr and has been a member of Bruce Springsteen's E Street Band for three decades. In 2014 he was inducted into the Rock and Roll Hall of Fame. Interviewer Anthony Weightman chatted to him in Arizona ahead of his 2015 tour in the UK.
Anthony Weightman: Firstly, my best wishes to you on your forthcoming tour to the UK in January, 2015. Would you like to say a few words about this tour?
Nils Lofgren: Yes, I've been coming there for over forty years and usually I try to get there every year. There's been a three year break because I've been busy with the E Street Band. We're excited to get back to the UK and do some great shows. I'm planning to bring my wife Amy who loves travelling around England on the bus. She likes snow, but I'm not a big fan. I'm a huge fan of the audiences there. They've been very kind to me. I'm a classical accordionist who discovered great music through The Beatles and The Rolling Stones and what we called "the British invasion." Through them I discovered Staxville, Motown and the blues greats. It's a historic place for me with some great memories and the chance to create some new ones. Three weeks of shows in January. I'm very excited to get back and do that.
Anthony Weightman: You studied the classical accordion for a decade from the age of five. Some classical accordionists say it'll be a while before saying what you play doesn't sound unusual or amusing. How long do you think it will it be before it's looked upon as an established classical instrument like the guitar?
Nils Lofgren: I don't think it will ever be seen in the same league as piano or the nylon string classical guitar, the Andres Segovia school of playing. My Dad's Swedish. My Mum's Italian. It's a giant instrument in both cultures. To the south of Chicago, where I grew up for eight years, a lot of kids took accordion lessons. I asked for them at five. My Mum and Dad danced every weekend as a hobby and loved music. They encouraged us. My three younger brothers all play. I had ten great years of study. After the waltzes and polkas you move into jazz or classical. After two years of guitar playing I was on the road at seventeen writing songs. I started a career 46 years ago in 1968. I'm very grateful for all that. It still remains a huge education and I still use some of the practise tips in my guitar playing.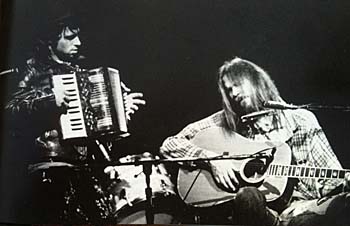 Anthony Weightman: Tom, your brother, once said about you that you were "unable to let something go until it was as close to perfect as it could be." The idea that things had to be flawless and excellent, to the best of your ability, is this an accurate reflection of your personality?
Nils Lofgren: Well, to a point yes. When you study classical pieces you're not allowed to improvise, other than emotionally. Every note must be played with some degree of precision. I studied two giant pieces for a year and performed them in front of judges and 500 parents praying I would screw up so their kid would look better. For me, I was just never perfect. I'm not speaking for some of the great classical players. I discovered rock and roll blues guitar, where you improvise. I started seeing people like Muddy Waters in bars and realising there's this visceral power that doesn't need perfection. I could improvise the blues, make mistakes and have rough edges and it still wouldn't dampen the power of the emotional content, or the contact you could have with people's spirit. It was just an incredible revelation and I took to it. Initially it was just a hobby. Nobody thought you could be The Beatles or Jimi Hendrix in middle America in the 60s. I never considered it a career. Then, one night, I saw The Who and the Jimi Hendrix Experience in Washington and I was possessed with the notion, at sixteen, that I wanted to try being a rock musician. So, for me, there was no such thing as perfection, but I do like to prepare. With a show I get there early, study some lyrics, make some arrangement changes and warm up my hands and body. So, when I walk on stage I can turn off my mind and use my musical instincts. That's a whole different arena from trying to play a classical piece to perfection.
Anthony Weightman: You've said that you like to work with a select few people who want you to be yourself and it must be refreshing and liberating to do be amongst those people. But, have there been uncomfortable moments when you felt, professionally, you were being taken in a direction you didn't want to go?
Nils Lofgren: Not really. I never had any giant hit records, so there was nobody hounding me to do the thing I just did. At a very young age, eighteen, I did the After The Gold Rush album with Neil Young. I found that being in a band, not just the leader, was very refreshing and inspiring. I've had a very healthy 46 years of playing in many great bands. Personally, I embrace it. I love working with others. I've been lucky in never saying "yes" to a job where I didn't love the people and music. The fellow I'm working with in January, Greg Varlotta, has great musical instincts. You don't want to have to tell people what to play. You give them a sense of direction and where to head and then you leave them alone. That applies to the great bands I've been with: Neil Young, Ringo Starr and Bruce Springsteen. I'm really there because I love their music and have a good sense of what might fit. The main requirement is a love of the music, an understanding of it, enjoying the company of the people and creating something together.
Anthony Weightman: You mentioned once being thrown out of a concert by manager Peter Grant. Curiously, I was actually there on the night of his last public appearance, the final night of the Page and Plant tour in 1995. He had a reputation of being smart, shrewd and loyal to his musicians, and many people believe that the world of music is now a less colourful place without him. What are your personal memories of him?
Nils Lofgren: I would say it's a less colourful place. I followed bands around and one I loved was the Jeff Beck group. I was sneaking backstage trying to meet my musical heroes. Peter saw me roaming the hallways. I'd had a little chat with Rod Stewart and Ronnie Wood who were very gracious. Peter grabbed me and Ronnie and Rod rescued me. They said I was their guest and told him to leave me alone. I followed that band around on the east coast on their first and second tours. Peter understood. I wasn't threatening. I'm a tiny little guy. With one hand he could lift me off the ground. Fortunately I was rescued and I was grateful for that.
Anthony Weightman: You once performed at a benefit concert for Arthur Lee in New York with Robert Plant. Some say that Robert Plant is one of the few musicians from his era to try to constantly move forward creatively, rather than dwelling on the past. Do you feel that that's a fair generalisation or not? 
Nils Lofgren: Not really. I used to bump into Robert all the time in bars and pubs. I saw Led Zeppelin in the day and the Unleaded tour they did in the 90s was spectacular. I was a big fan of that band. Robert keeps growing and moving forward. He's one of the incredibly famous musicians who can be credited with that. Hat's off! But, if you dig deep, there are a lot of musicians who aren't that famous, barely famous or hardly known. In their own quite way they're growing, learning and moving forward. They're just not necessarily in the public eye.
Anthony Weightman: You've mentioned the excitement that Crosby, Stills, Nash and Young had when they played that counter culture rock anthem 'Woodstock' to you. It was a very spiritual song. The original Joni Mitchell version was very stark, intense and haunting, but, strangely, never became as well known. Why do you think that was?
Nils Lofgren: I think with FM radio you always have a Top 20 or Top 30 rotation. Joni's version in America had quite a bit of play on FM radio, but not on the big AM stations. I wouldn't call it a 'pop' piece, but Crosby, Stills, Nash and Young had an intense base vibe. They were a super group in the making at that time. They got the majority of the airplay but, you're right, Joni's vision of that song is the most haunting but, nevertheless, they did a great job. They blew into the studio I was working in with Grin and Donovan. It was wonderful.
Anthony Weightman: When I see pictures of your home life in Scottsdale in Arizona, it really looks idyllic. Good friends, a beautiful wife, six devoted dogs, marvellous food, orange and grapefruit orchards. Do you find that sort of relaxed existence is an essential contrast to the hectic life on the road?
Nils Lofgren: I don't know if 'essential' is the right word. I think, for me, it's great. When I was in my twenties my whole life was tunnel vision music. I was in the studio or I was on the road. Very one-dimensional. Other than seeing my Mum and Dad and brothers I really didn't have much of a family life at all. Now, after 46 years on the road, it's very critical to me personally. It's very essential for me to have that peace. But I'm still practising and there are guitars and a piano set up in the house. Now I'm memorising words and getting ready for a great run in the UK. But it's at a quiet, easy pace and it really benefits me to have those beautiful things. For me it works great. After 46 years the madness that goes with the shows I like to keep on the road. It's a great energy for me. Still my favourite thing to do is perform for people. I've been blessed to have this home to do it from and the support of my family.
Anthony Weightman: You tell a wonderful story about your wife Amy. The two of you met and you loved her company. You tried to persuade her to get on a tour bus with you in New Jersey and go with you to Boston at 6a.m. one morning. She didn't go, but she met you at a show in Scottsdale fifteen years later and you've been together ever since. To me this sounds a bit like a classic love story movie. Does this prove that dreams really can come true? 
Nils Lofgren: Yes. I've been very blessed in a lot of ways. I had fifteen years of basic relationship hell. I've paid my dues. I was very blessed that we had a second chance to meet here in Scottsdale and we both took advantage of it.
Anthony Weightman
Nils Lofgren has announced a massive UK 2015 tour starting next month. Check out dates below: