Ólafur Arnalds – Live @ The Barbican
aaamusic | On 28, Feb 2015

Sunday 22nd February, London
Tonight, Ólafur Arnalds is headlining London's prestigious Barbican for the third time, proving that his intelligent composition work is more than the thinking man's background music: it has genuine commercial appeal.
Alongside contemporary Nils Frahm, Icelandic composer-musician Ólafur Arnalds is one of my greatest discoveries of the past few years. Even before his hugely successful, BAFTA-award winning soundtrack to ITV's Broadchurch made him something of a household name, I was hooked by his haunting classical-meets-electronica soundscapes, with his 2013 album For Now I Am Winter remaining one of my favourite records of recent times.
Arnalds wasn't always involved in neo-classical, electronic-laced soundtracks – and it is soundtracks that he is most recognised for, as opposed to his studio albums. He got his start playing drums in hardcore and metal bands, before being offered the chance to create the intro/outro music for German extreme metal band Heaven Shall Burn. Arnalds then got propositioned by a label to create a whole album of these progressive and ambient sounds and, a few years later, here we are: he's scored multiple soundtracks, has had music featured in movies like Hunger Games, and is also part of the wicked Kiasmos techno collaborative project.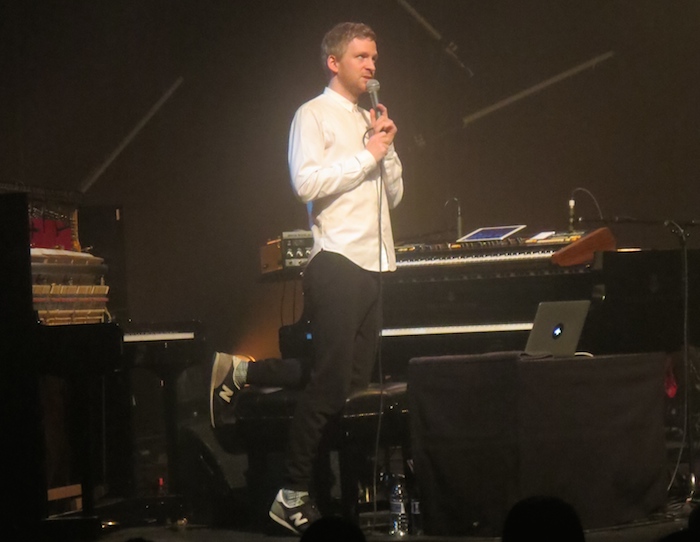 Tonight, Ólafur Arnalds is accompanied by a seven-piece ensemble, including strings and horns, plus simple lighting involving some blinding strobes, used sparingly. His own instruments included two pianos, a Juno60 synthesizer and an iPad (it looks like a similar setup to what the aforementioned Nils Frahm uses). Setlist-wise, tonight is mainly geared towards his work for Broadchurch, the murder mystery TV show that, as Arnalds jests, "used to be very popular".
Musically, he blends post-electronica synths and slowed, lightly industrial beats with orchestral soundscapes, creating compositions that move through both meditative and intensely dramatic musical atmospheres. The focal point of the show tonight, and all his compositions generally, is Arnald's gentle, non-showy piano pieces, at once both euphoric and deeply melancholic. When the robotic percussive elements enter the frame, all programmed live by one of the ensemble, and layers of strings and horns are added, the music sometimes (but not often) travels away from ambient introspection to overwhelming waves of dense, climatic sound.
Some of the instrumental highlights tonight include an early airing of 'Danny's Funeral' and main set closer 'Beth's Theme', both from Broadchurch, the latter of which Arnalds proclaims to be his favourite from his work on the show. Other excellent performances were 'Poland', from his Another Happy Day soundtrack, and the last song of the night, 'Lag Fyrir Ömmu' from Living Room Songs, which translates as "song for Grandma", to whom he dedicates the song, explaining that she was the principle influence for him entering into the classical sphere. Well down Grandma.
The best moments from tonight's performance, however, come when guest vocalist Arnór Dan joins the Arnalds and band with his soaring, evocative voice. The hypnotic outing of 'Old Skin', from For Now I Am Winter, was excellent, as was the powerful rendition of the Broadchurch end credits song, 'So Far'. 
This was an excellent performance, all the more impressive due to the overall restraint from the musicians and Ólafur Arnalds himself. Post-electronica and neo-classical music is often delivered live with that overwhelming wall of noise type approach, as if the Sigur Ros option is the only way to make music like this have any impact with the audience, but tonight was all about delicate minimalism; delicate by mighty nonetheless.
Clive Paris Rozario