George The Poet + Barney Artist – Live @ Oslo
aaamusic | On 02, Mar 2015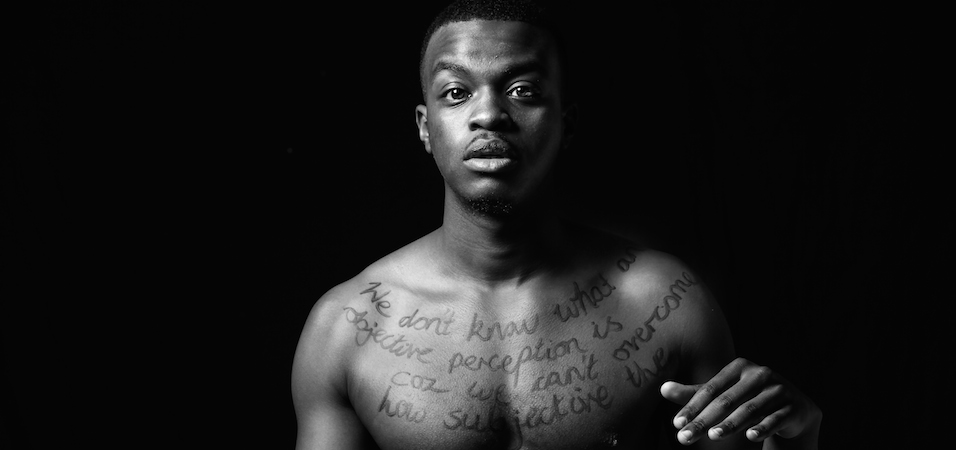 Monday 23rd February, London
Oslo is a cool bar and gig venue situated in the heart of East London, home to both George The Poet and his bud Barney Artist. I had the pleasure of seeing them perform on their home turf on Monday night and what a show it was.
Barney kicked off the gig with an embellished version of 2014 single 'Beep Beep'.  His backing band consisted of bloody good pianist and producer Alfa Mist, Kaya on guitar and Rick with backup vocals.  The set up really worked and complimented Barney's jazzy, hip-hop vibe.
He has an individual performance style: entertaining and purposely amusing at times but also commanding and hypnotising (particularly when he is absorbed in the instrumentals and throwing some lanky dance moves).
Barney has been recording over the last few of months and we were treated to a couple of new songs, first of which was 'Dream'. Its melancholy instrumentation had a calming effect and the audience focused their attention on the honest lyrics about his youth.
Towards the latter half of his set Barney really pulled the audience in with an a capella rendition of 'Wandering' off his Bespoke EP, released in August last year. The lyrics are thoughtful, covering more of his upbringing and relationship with God, which clearly resonated with the captivated crowd.
Next track was 'Love Language', which addresses the idea that everyone has an individual style of communicating love. This track particularly showcased Alfa's piano abilities and Barney had the audience singing along with the chorus. Our second insight into his next collection was 'Life is a Painting'. Barney expresses his concern of the impact of the media and "passive racism, always in the air".
The set was concluded with my personal favourite from Bespoke, 'ilvu', which is a soulful rhythmic track that resulted in an approving applaud. Barney is giving away his brand new single 'Oui' for free (head over to his SoundCloud now…).
The interlude featured Shelz The Dancer. It was an interesting performance, with some hip-hop and interpretive dance. It was a fun way to transition and definitely had the audience entertained.
George The Poet's set started dramatically with 'Grinding', which samples the classic iPhone ring tone and introduces a theme that would become apparent throughout the course of the show.
It was actually like nothing I've ever seen before. The structure of the show was very planned and purposeful but executed seamlessly. George introduces situational characters whose relationships he uncovers through 'Baby Mother' and 'Baby Father' from The Chicken and The Egg EP which was released in October, and achieved much recognition in the lead up to his BBC Sound of 2015 nomination.
The story told throughout the performance had significance and whilst (I sadly have to admit) I often don't pay much attention to lyrics, I was hooked and heard every single word.  George mentioned a couple of times that he's not an "artist" and that he's using his fame as a platform to open up issues that need to be discussed. The Cambridge graduate is impeccably articulate; the range of ages and backgrounds in the audience suggests he, and what he stands for, resonates with the broad population.  The show was resolved with 'Cat D', the current single released in January this year.
George The Poet has the potential to affect a lot of change; he provides social commentary on teenage pregnancy and racism, subjects that are often discouraged. I came away from the performance feeling informed and motivated to support his cause, and I guess that was the entire purpose.
George for Prime Minister I say.
Amy Pinnock