Wolf Alice – Live @ The Boogaloo
aaamusic | On 02, Mar 2015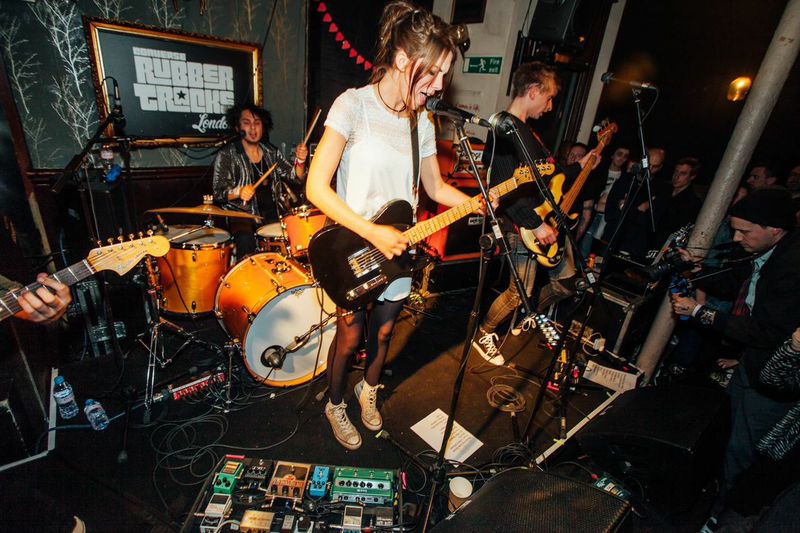 Tuesday 24th February, London
Converse, the brand most notorious and associated with rock and roll music, being the generous souls they are, organised an intimate one-off free show showcasing Wolf Alice with their selected support Crows. It was set in the eminent venue in Haringey, the borough where Converse Rubber Tracks London launched their programme to aid local musicians specifically chosen by NME officials to record exclusively at Snap studios in January.
Crows, a four piece from London, ravage the stage with their post-punk hardcore, as grumbling bass lines and an undercurrent of post-hormonal angst takes hold. The front man (James Cox) reminds me of a young Johnny Rotten minus the outlandish styling; leaning on to the microphone stand into crowd, he sings with such venom, howling intermittently throughout Crows' performance whilst jolting round and contorting as if he is invoking a demon. At one point he cuts his lip open and continues like nothing has occurred, he is spitting blood. It is nihilistic and brutal, but the savagery adds to the raw energy of their show, which is a scene to be witnessed as gritty guitar riffs and sinister nuances take over warming up the assembly.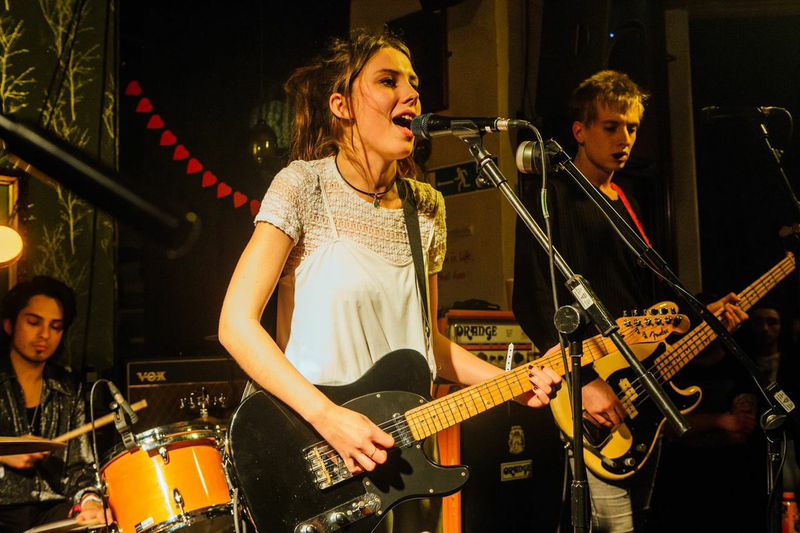 Hailing originally from North London, Wolf Alice are back on home turf, a statement bassist Theo Ellis is proud to make known, as Ellie Rowsell (Lead Vocals & Guitar), Joff Oddie (Guitar) and Joel Amey (Drummer) all take their places. Opening with 'Mona Lisa Smile' taken from their Creature Songs EP, released last year it is a monster of a song with heavy chords. Their style of garage rock and grunge instrumentals is undoubtedly refreshing and foreboding as Rowsell's angelic vocals masterfully clashes with their roaring crescendos specifically on 'Storm' and '90 Mile Beach' one of their more chilled tracks which explodes into a flurry of guitars and motion on the small platform. Though the band does go through each song one by one, it does feel as it takes the band awhile to thaw out, but once they have it is indisputable.
With the release of their debut album Giant Peach due to come out on June 22nd via Dirty Hit Records, we are indulged with a few new tracks, however it's 'You're A Germ' which especially juts out. Heavier and punkier then their usual approach the song ascertains tenacity, bad-ass attitude and directness just alone through lyricism, as Rowsell shouts in to microphone "You ain't going to heaven, I think you're going to hell". 'Blush' mellows out the mood as euphoric soaring guitars and the delicacy of the song, majestic and beautiful has everybody in the Boogaloo silent. Another newbie from the upcoming LP 'Wicked Game' sees Theo and Ellie partake in a synchronised two-step building up to the break, which incites a moshpit of carnal forces and finally puts some vigour into the audience as the peak concludes.
Wolf Alice get experimental on 'The Wonderwhy', as muted and drowned out sounds feature. Bringing the night to a close in a disorderly rapture 'Fluffy' ensures nobody in the room is left standing still, as shouts of "fluffy" circulates around the room. It is a superb ending to an impressive performance, one of many I'm sure will be ever-present on their UK tour beginning in March.
Lois Browne
Photos: Andy Ford