The Den Is Back At Camp Bestival With Professor Green
aaamusic | On 26, Mar 2015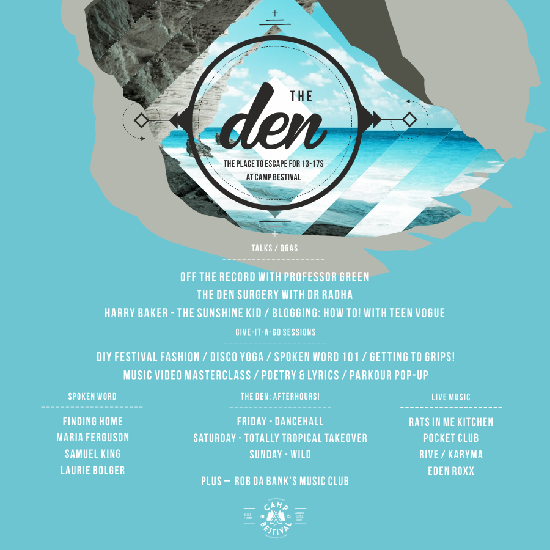 THE DEN: THE PLACE TO ESCAPE FOR 13-17 YEAR-OLDS AT CAMP BESTIVAL
Talks and Q&As
Off the Record with Professor Green / The Den Surgery with Dr Radha / Harry Baker – The Sunshine Kid / Blogging: How To! With Teen Vogue
Give-It-A-Go Sessions
DIY Festival Fashion / Disco Yoga / Spoken Word 101 / Getting To Grips! / Music Video Masterclass / Poetry & Lyrics / Parkour Pop-Up
Spoken Word
Finding Home / Maria Ferguson / Samuel King / Laurie Bolger
The Den: Afterhours!
Friday – Dancehall Hosted by Marawa and the Majorettes / Saturday – Totally Tropical Takeover / Sunday – Wild
Live Music
Rats In Me Kitchen / Pocket Club / Rive / Karyma / Eden Roxx
Plus
Rob da Bank's Music Club
Back by overwhelmingly popular demand, we're pleased to announce the return of The Den! A whole area of Camp Bestival dedicated solely to 13 – 17 year-olds, it's kind of a festival within a festival, with new and emerging talent, workshops, talks, Q&As, and loads of stuff the olds won't understand. From an exclusive, teen-only, interview with rap don Professor Green, and an appearance by BBC Radio 1's Dr Radha, to free-running madness and all-out dancing, it's a teen dream.
Camp B bossman Rob da Bank says: "After the success of last year we had to bring The Den back and keep it going loads longer with The Den Afterhours! We've also got tons of stuff you can get your teeth into from parkour to poetry to keep you out of your parents' clutches. It all sounds brilliant to me, but I wouldn't know, because I'm not allowed in… apart from when I interview Pro Green… :)"
This year, The Den team have really pulled it out of the bag for their Talks and Q&As, starting with a total coup – Off the Record with Professor Green. A massive exclusive for The Den – so that means it's for teens only! – Camp Bestival head honcho, Rob da Bank, will be interviewing Hackney's finest lyrical genius about everything from breaking into the music business, to topping the charts. Totally unmissable!
The Den will also have the honour of welcoming BBC Radio 1 star, Dr Radha, for a very special The Den Surgery with Dr Radha, plus they'll have the inspirational story of the youngest ever Poetry Slam world champion, Harry Baker – The Sunshine Kid, and everything you need to know about getting yourself heard online, with our Blogging: How To! With Teen Vogue.
You'll also be able to get the inside track at the Give-It-A-Go Sessionsacross the weekend. You can perfect your festival swag with DIY Festival Fashion, or enjoy energising morning action with Disco Yoga. Liberate your inner poet with Cecilia Knapp in Spoken Word 101, or use creative writing to try out a bit of self-discovery with Getting To Grips! You can also get involved with the amazing BRIT School to learn the moves from chart-smashing vids with Music Video Masterclass, join Laurie Bolger who will help you create inventive and adventurous poems in Poetry & Lyrics, or learn free-running from the experts and be blown away by their demos withParkour Pop-Up. The Den will also play host to Spoken Word including coming of age act Finding Home, Roundhouse performance poet, Maria Ferguson, thought provoking verse in an exclusive appearance from Samuel King and Laurie Bolger who has been shortlisted as London's Young Poet Laureate.
If you're coming for the beats then The Den: Afterhours! is for you, with an amazing array of DJs, live acts, dancers and drummers taking you into the night. Friday night's flavour is Dancehall, and there will be hula madness aplenty with hosts Marawa and the Majorettes, Saturday sees a Totally Tropical Takeover, and Sunday will be Wild! And live music in The Den will come from Rats In Me Kitchen, Pocket Club, Rive, Karyma and Eden Roxx.
And, situated right alongside The Den will be Rob da Bank's Music Club. Putting on exclusive workshops, demonstrations, inspirational speakers and general chill out, with music and performance for 13 – 17 year-olds – it's only teens allowed. So, come, be inspired, entertained and learn the occasional thing along the way!
Don't just take our word for it though, The Den has its own Facebook page and Twitter; so like and follow for the lowdown.
There's still plenty-more wild Camp Bestival action and adventure to be announced so keep checking into the Website, Facebook, Twitter, Instagram,Pinterest for more information.
Tickets for Camp Bestival 2015 (July 30th to Aug 2nd) are on sale now via: Ticketline, 0844 888 4410