Coheed and Cambria – Live @ SO36 Berlin
aaamusic | On 02, Feb 2016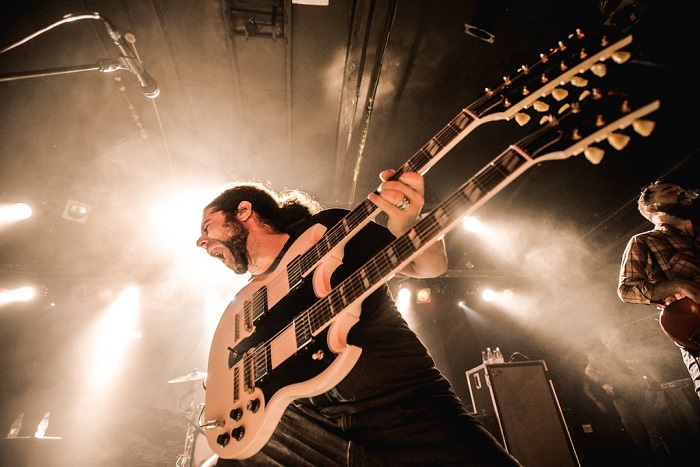 Wednesday 27th January, Berlin
I've been a fan of Coheed and Cambria since the beginning. Their first three records remain in constant rotation – especially their excellent second album, In Keeping Secrets of Silent Earth: 3. And although I'm of the opinion that their subsequent output has suffered slightly with inconsistency, Coheed have never failed to blow me away live. That said, I hadn't seen them since a support slot with Deftones at Brixton Academy back in 2010, so I was a little apprehensive ahead of this headline gig at Berlin's SO36 – apprehensive that the setlist could be dominated by their more recent records, including their new(ish) album The Color Before the Sun. Instead, Berlin was treated to a sublime setlist that balanced older fan-favourites with newer material. Despite this, Claudio Sanchez and band truly had to work to win over this particular crowd…
Their latest album The Color Before The Sun, released last year, is a fine record, but it's intentionally straightforward, both musically and lyrically. So I was a little surprised when the band opened with two newbies, 'Island' and 'The Eraser', both relatively melodic and lacking the punch of the heavier prog-metal tunes they usually rely on to kick off their shows. They were expertly played, yet didn't connect with the crowd. What followed, however, was the perfect sequence of songs, each cherry-picked from a different album: 'Devil in Jersey City', 'Key Entity Extraction V: Sentry the Defiant', 'Blood Red Summer', 'World of Lines', and a blistering rendition of 'No World for Tomorrow'. Just like that, they had covered exquisite material from five of their seven previous albums. Next came a rare outing of '33' (another song from their debut), which I hadn't seen performed since back in the early noughties: totally brilliant. With each song the audience grew warmer; fiercer, even. Even the following two new tracks – 'You Got Spirit, Kid' and 'Here to Mars' (two of the best from the album) – didn't kill the momentum.
The rest of the show was pure bliss; not for just me personally, but for the whole audience, evidenced by the ensuing moshpits and mass singalongs. Coheed and Cambria finished the main set with three cuts from In Keeping Secrets…: emo anthem 'A Favor House Atlantic', the screamy post-hardcore of 'The Camper Velourium III: Al the Killer', and, finally, the best tune that they have ever created – the epic, spine-tingling progressive metal of the title-track, 'In Keeping Secrets of Silent Earth: 3'. This last one sounded utterly monstrous, in the best possible way, and the audience reception was overwhelming, especially given how tame they had been early on. They roared-along to the chorus, creating circle-pits and throwing their fists in the air.
This energy and devotion continued while the band briefly stepped offstage head of the encore – the crowd chanted and stomped their feet in unison. When the band reemerged, they looked genuinely surprised and grateful. Coheed then rounded off the night with the two best-loved singles from their third opus, 'Ten Speed (Of God's Blood and Burial)', and the thundering riffage and soloing of customary closer 'Welcome Home' (the second best tune that they have ever created), featuring Sanchez soloing behind his head and with his teeth (!) on a double neck guitar…talk about showmanship!
To be honest, you're always going to get excellent songs and expert musicianship at a Coheed and Cambria gig – their unique, cross-genre music coupled with frontman Sanchez's distinctive, high-pitched vocals and appearance (that Cousin Itt mass of hair!) have always been consistently spectacular. What set this particular show apart from the usual C&C gig was watching Sanchez fighting to win over this lethargic, mid-week Berlin audience. Since his face is usually totally obscured by that frizzy mop of hair, it's easy to imagine that Claudio intentionally remains hidden, perhaps attempting to keep a degree of distance between himself and his audience. Tonight I was close enough to the front to see through the hair – his eyes weren't shut while he focused on those intricate guitar lines, his eyes were fixed directly on the audience throughout, darting from one person to another, gauging their reactions to every song choice, every solo… Each time his hair was swept back during the early stages of the show, you could clearly see the anxiety on his face about whether or not he was connecting with his fans. And when the crowd eventually woke up towards the end of the night, making their adoration of him and his band well and truly obvious, the resulting smiles and sparkles in Claudio's eyes, as subtle as they were, filled with me with absolute joy. Claudio Sanchez may be nearing 'Rock God' status, but he's still that underconfident post-hardcore nerd that we fell in love with over a decade ago.
Clive Paris Rozario