Steven Wilson – Live @ Hammersmith Apollo
aaamusic | On 02, Feb 2016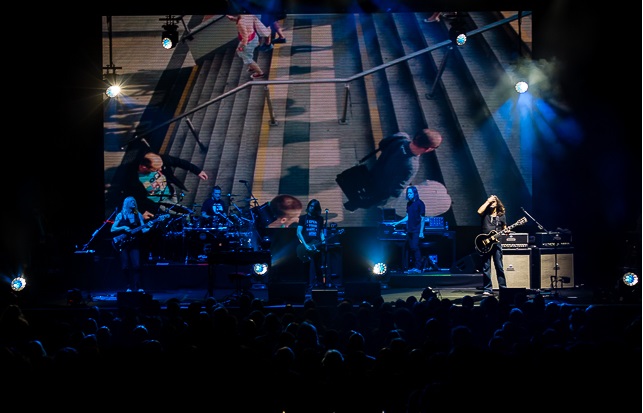 Wednesday 27th January, London
As previously noted on this website, Steven Wilson is not a man who does things by halves. The ambition and consistent output of his music would put the most tenacious of artists to shame and that same work ethic was on display during his performance last week at Hammersmith Apollo, where he played a gargantuan three-hour set to the delight of hundreds.
Returning to London off the back of two sell out shows at the Royal Albert Hall, Wilson quipped that anyone in attendance at those career-peak concerts were in for much of the "same shit". Not that the audience cared; Wilson's fanbase is a rare beast – a jumble of old and young cynics who feel more at ease in the company of a mellotron than a drum machine. It is no coincidence that Hand Cannot Erase, an album that not only strays into minimalist beats and pop melody but effectively doubled Wilson's following, has become his most divisive record in years.
It's the towering rock opera Hand Cannot Erase which makes up the first half of this gig. It is easy to see why this technical juggernaut has become a staple of Wilson's live sets over the past 12 months; the cavernous interiors of indoor arenas and theatres lend themselves to this music. Take The Who-esque prog rock opener '3 Years Older', a track made to be played loud, hairs collectively standing to attention as the tinkling piano is replaced by those first electrifying notes.
The ambition of the music is matched only by a visual display reminiscent of Roger Water's recent tour of The Wall. While there are many parallels between that album and this, not least in its themes of isolation and loss, Wilson's style is less light show and more art installation – each short film a silent accompaniment that heightens rather than detracts from the listener's interpretation of the music.
The acoustics do not always work. 'Perfect Life' – a haunting spoken word track featuring Katherine Jenkins that captures Wilson's new direction in the studio – does not translate as well live, the vocals drowned out by suffocating bass. This is less an issue on the album's stand-out moment 'Routine', where Ninet Tayeb's incredible live vocal range competes with the soaring guitars to offer something truly unique.
The addition of Tayeb to the tour is a masterstroke by Wilson, but the Israeli singer's talents are employed less in the second half of the gig, when the rocker falls back on old habits to satisfy the fans. That said, this is arguably the more eclectic 90 minutes of the evening, with Wilson offering up a smorgasbord of new material, past hits and side-project rarities. The 10-minute progressive metal of Storm Corrosion's 'Drag Ropes' is followed by Porcupine Tree's melodic 'Lazarus', which in turn gives way to an eerie duet of 'Don't Hate Me' (re-recorded for Wilson's 44 ½ EP) before returning full circle to Porcupine Tree's equally oppressive 'Sleep Together'.
Wilson's flirtation with genre is reminiscent of his hero David Bowie, to whom he honours with a stirring rendition of 'Space Odyssey' during the encore – no easy feat in a month marred by tacky tributes. His speech that Bowie's passing marks the end of experimentation in mainstream pop sits well with the crowd, but feels problematic for this reviewer in an era when the lines between underground and commercial success have become blurred beyond recognition.
In any case the remark is heartfelt, and drolly illustrated in a surprise performance of Porcupine Tree's 'Sound of Muzak', a 2002 track that lambasts the commercialism of chart music but is so obscure even the most devout of fans struggle to sing along (Wilson claims it was met with tumbleweeds in Germany).
Overall, Steven Wilson's trait for self-deprecating wit, poignant songwriting, and an almost unparalleled knowledge of the intricacies of rock music make him an entertaining presence for both devout and casual listeners. His final bow of the evening – via an overwhelming rendition of opus 'The Raven that Refused to Sing' – only consolidates his reputation as one of the most interesting artists working today.
Tom Goulding