Alex Cameron – Live @ Moth Club
aaamusic | On 25, Nov 2016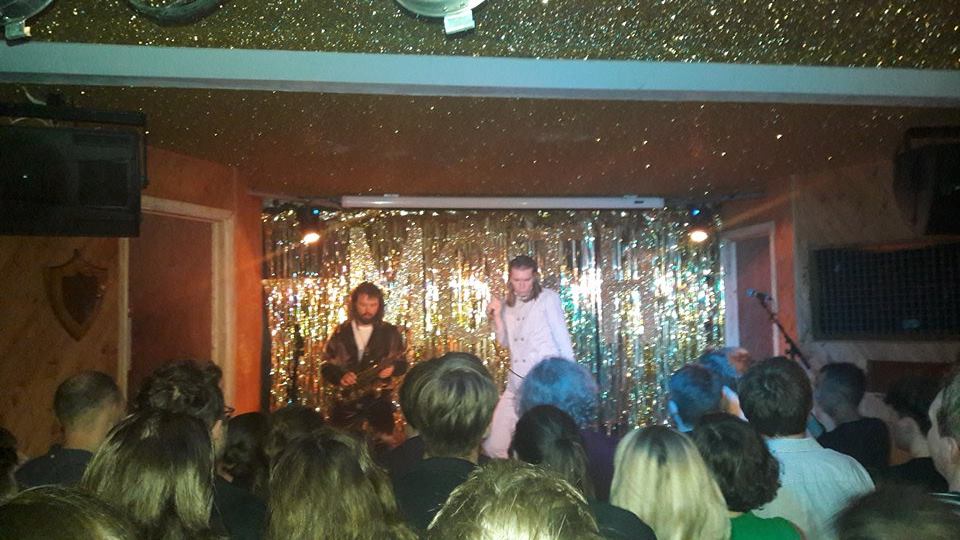 Wednesday 16th November, London
Like the Moth Club, Alex Cameron is hot and sticky. Amid the gold glitter and sequined tassels of this obscure ex-serviceman's club in the heart of Hackney, the washed out star struts and squirms in a safari-suit, resembling something between Steven Seagal and an Octopussy-era Roger Moore. As spectacles go, it's oddly disquieting.
Unsettling audiences has been honed into something of an art form by Alex Cameron. A member of Sydney-based electro outfit Seekae, the singer-songwriter branched out in 2013 releasing his first solo effort 'Jumping the Shark'. A synth-heavy concept album, the record's eight tracks are an ode to failure and the ugliness of showbiz; brimming with seedy businessmen, alcoholics and con-artists. At first it went unnoticed, but its re-release on label Secretly Canadian this year has finally seen it achieve the recognition it deserves.
The live shows are an extension of this motif, and Cameron not so much wears these characters as inhabits them; an anti-Springsteen fleshing out their insecurities and dubious pastimes in a hypnotic baritone. His sets are empty, with even the reverbs and sparse production of the album stripped away. That's not to say this is a one-man show; the singer is accompanied at all times by his 'business partner' Roy Molloy, a wordless saxophonist whose very presence makes this sweaty corner of East London feel like a Las Vegas hotel lounge.
It's the onstage chemistry between the two which more than makes up for Cameron's limited musical output. Between each song Cameron pauses to regale the crowd with tales of Roy, pointing out their height difference, the childhood trauma inflicted by his mother's treatment of an orphaned rabbit, and the theft of his saxophone during the Amsterdam leg of their tour – in which the opportunists robbed the instrument, but left all copies of the album. It's all brilliantly deadpan, and if like one of his creepy creations Cameron should fail on music circuit, there'll be plenty of room for him at the Comedy Store.
Having kept the bemused but loyal crowd happy, Alex Cameron beckons the night's support Andrea Balency on to the stage for a bittersweet rendition of 'Candy Mae' – "I thought I was writing a love song but it turns out I was writing a break up song" he laments – before a very fitting cover of Tory Orlando's 1973 hit 'Tie A Yellow Ribbon Round the Old Oak Tree'. It's a feel good end to the evening and a moment's respite before the gonzo raconteur disappears into the night; back into America's sleazy underbelly so you don't have to.
Tom Goulding