Nile Rodgers & CHIC – Live @ Berlin Tempodrom
aaamusic | On 28, Aug 2018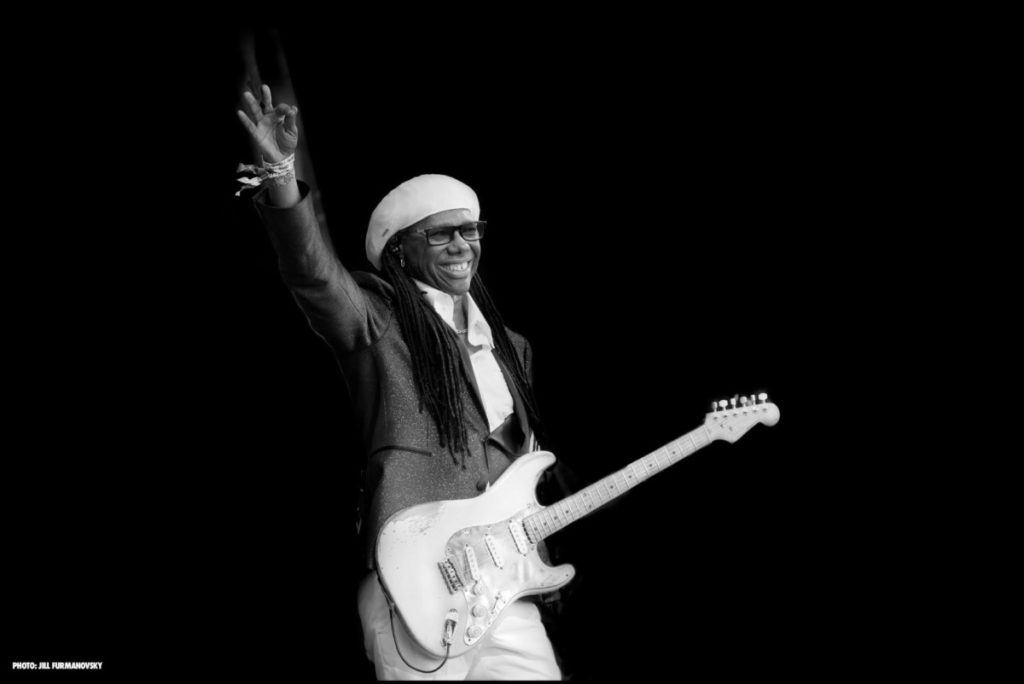 Thursday 26th August, Berlin
Nile Rodgers. What a man. What a legend. Unbelievably, this is my first time witnessing Nile Rodgers and Chic (now stylised as CHIC), the disco-funk band he founded in the 70s. I say unbelievable, as since coming back after he defiantly beat cancer earlier this decade, Nile Rodgers & CHIC have been a permanent fixture on the live circuit, seemingly up for any kind of show, from the intimate club shows and countryside boutique festivals to the arenas and amphitheatres of this world. And how the world has lapped it all up: the endless array of cross-decade hits, the virtuosity of his band and, holding it all together, the effortless charisma of the man himself, Mr Nile Rodgers.
Tonight at Berlin's Tempodrom, I have the fortunate opportunity to meet and talk with Nile backstage before he goes on. Cool and composed, he chats to the small bunch of fans, VIPs and label folk that crowd around him in his dressing room, while he – clasping his trusty Fender Stratocaster and donning a pair of trademark shades – grins, tells anecdotes and takes photos. You wouldn't guess he's about to walk on stage to a sizeable venue packed to the rafters. Nor would you guess that he's 65, and that he has probably worked crowds such as these almost nightly throughout a career that has spanned five decades, such is the enthusiasm and sincerity he exudes. This man is clearly loving life… and who can blame him!
Rodgers' calm confidence and exuberance continues as he walks on stage to a sea of hands and joyous screams, as CHIC launch into the first of many, many disco classics, 'Everybody Dance'. What follows is a setlist consisting of CHIC classics as well as other artist's hits written (and often produced and performed on) by Nile Rodgers, taking us on a journey of one of the most prolific and successful songwriters of all time. There truly can't be a single highlight in a setlist that includes such anthems as Madonna's 'Like A Virgin', Sister Sledge's 'We Are Family', Diana Ross' 'I'm Coming Out', Duran Duran's 'Notorious' and David Bowie's 'Let's Dance' and – the song that brought him back into the limelight – Daft Punk's 'Get Lucky'. And that's just the "covers"… add to that CHIC's 'I Want Your Love', 'Le Freak' and finale 'Good Times' (including Nile's commendable attempt at the rap from The Sugar Hill Gang's 'Rapper's Delight'), among countless others, and you've got a show of 100% crowd-pleasers, from start to finish.
The CHIC of today may not resemble the core band of the 70s in terms of its line up, but Rodgers has enlisted an excellent ensemble of able musicians and singers to accompany him with this rebirth. Bassist Jerry Barnes is a particular standout, bringing the funk (and not one but multiple bass solos) and constantly riffing off of Niles' guitar; it can't be an easy task stepping into the shoes of CHIC co-founder and writing partner – bassist/vocalist Bernard Edwards, who tragically passed away in 1996 from pneumonia at the age of 43 – but Barnes proves he is a star in his own right. Nile's distinctive guitar lines remain fresh and infectious, whether slicing through the modern disco of 'Get Lucky' or Diana Ross' 'Upside Down' from 1980, the last of which was reportedly nearly given to Aretha Franklin instead of Ross; though Nile doesn't acknowledge this, with the soul legend having passed away only hours before the show, he does give his "soul sister" a touching shout out and dedicates 'We Are Family' to her. Nile keeps the solos short and sharp, but to be honest his style was always about the "groove" and not showboating. Less is more, kids.
Throughout the gig, Nile Rodgers offers stories from his career, words of wisdom and repeated requests to dance and have a good time (of course!). He lists the stars he's collaborated with (everyone from the aforementioned Bowie and Madonna to Avicii and Disclosure), and – following a powerful story about his battle with cancer and the remarkable recovery that spurred his decision to start seriously touring and recording again – describes how he has written over 1,500 songs and sold over 500 million records. It's a statement that receives a roaring, standing ovation, and deservedly so. If the setlist wasn't proof enough of how integral this man has been to popular music, then these statistics should drive the point home. With a new Nile Rodgers & CHIC album on the way – the first in 25 years – expect those numbers to go up and, if you're lucky, many more good times.
Clive Paris Rozario