AAA Music Approved: All From Nothing
aaamusic | On 24, Aug 2020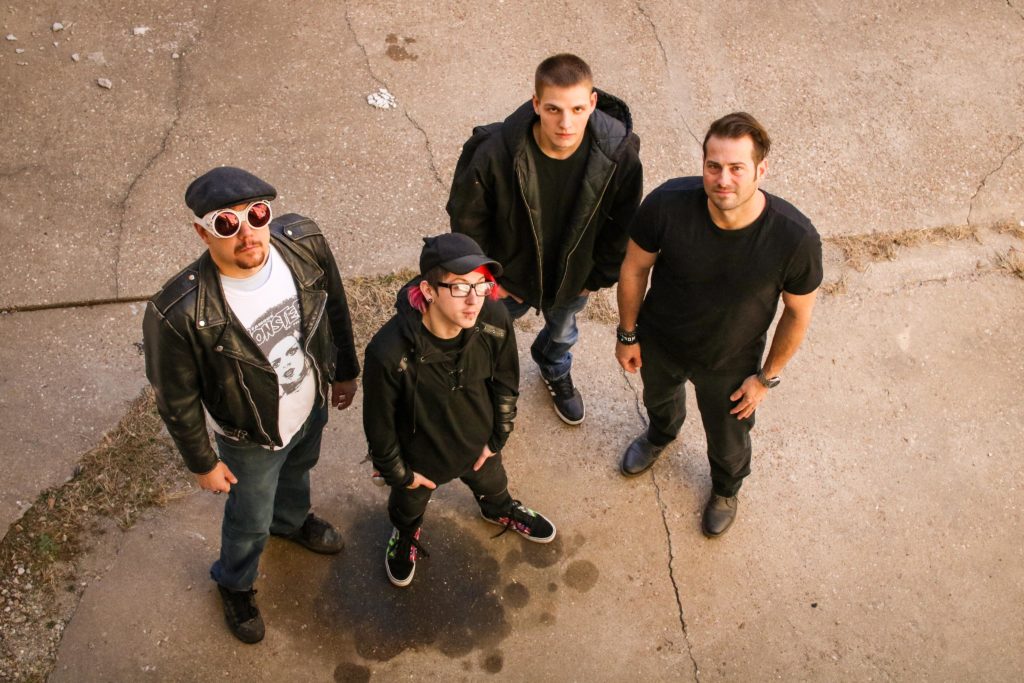 Who are you and where are you from? 
Jeff Kitselman, lead singer of All From Nothing. I grew up in the grunge music scene of the early 1990s in a small town just outside Aberdeen Washington, home of Kurt Cobain, I was born in Seattle Wa.  Worked at a grocery store where all the Melvins worked just a few years before and like most kids had a high school rock band throughout most of my high school.  I headed some different bands up until I was 22 in which I moved to Kansas with my soon to be pregnant wife and changed my priorities from music and hanging with friends to running  my own real estate company fulltime and a building a family, putting my heart into that.   About 6 years ago I went through a divorce with my wife and with all the extra time I now had, I was re-inspired me to find my heart and soul in music with a renewed passion and drive for music.  All From Nothing officially hit the ground in 2017 with both myself and Sage Thurston Tabares as the core of the group since then.  
What inspired you to get into music?
The genre picked me, I don't feel like I picked it.  I have now lived in the Midwest the past 19 years, home of some of the biggest names in country music and I would have a much more likely chance of success switching genres but I just can't.  Rock, punk, hard rock, pop punk; it is what gets me juiced up and it is what I bleed.  I grew up with parents that listened to the best of 70s rock, cranking out anything from Led Zeplin, Jimmy Hendrix, Janis Joplin, Black Sabbath, the Doors and the Rolling Stones.  In the 80's I couldn't get enough of bands like Guns N Roses, Bon Jovi, Tom Petty, Bruce Springsteen, U2 and even the Cars.  I was heavy into the grunge and punk scene in the 90s everything from Nirvana, Pearl Jam, Alice in Chains to Social Distortion.  At the same time I have always enjoyed bands like Matchbox 20, Blink 182 and the Offspring. 
What have you done?  
 I don't know if we have made any real impact as of yet, but I hope to.  Our music is important as I write a lot about the things that are hard to talk about but are important topics.  I want to see our world a better place, I try and live by this example and spread that to others. I know there is a lot of hate and anger from so many things going on in our world and there is such sadness that follows that.  I have written songs dealing with mental health and suicide, racism and the division of people, to how we are destroying our world and environment, and then many songs of my own personal experiences from different relationships.  Every song I have written has had a special meaning to me and I hope that it will help others that listen to know they are not the only ones going through things.  We have released 2 EP's and several singles now in our short existence and I am very proud of every song so far written and recorded.  
What are you like live?
We are still fairly new and haven't done any full tours, just the regional stuff, within a couple of hundred miles of where we live currently.  We would really like to start doing the national tours after we are on the other side of the Covid 19 pandemic which I am guessing could push that off until sometime middle to late 2021.  We are high energy when we play a show, giving our heart to the performance.  I once heard to play every show as if it is your last and I have taken that to heart.   We have opened for some awesome bands; our biggest show was opening with an hour long set for Everclear this past summer at the Wild West Festival in Hays, KS over the 4th of July.  We have also opened for 10 Years, Tantric, Veer Union, and Crazy Town.  
What makes you different?  
We are not your typical rock band, we like to have fun and there is nothing better than when we are hanging out just laughing at different jokes and at each other but also very much in this to help others, to be a voice to those that are looking or needing help. We all know someone who has been affected by suicide and mental illness.  If our music can help just a few people by giving them hope, seeing they are not alone and for them to turn their life around at that cross road, as long as they are living and breathing, they still have a second chance at life then this is all worth it… It hurts to think about those that left us way too soon, leaving the burden on their loved ones… We truly want to make a difference for others and to be a positive in a music scene that can be pretty ugly at times. As far as our music, we feel it is catchy, sticks with you  as it combines a somewhat familiar sound of the late 90s and early 2000s blended with modern rock.  I like to think of us as a rock band, with some punk and even some pop undertones at times.  We are a mix of many genres and none of our music sounds the same.  
Physical vs Downloading vs Streaming…How do you listen to music? 
I personally am a digital music guy, I listen to a lot of music on spotify and google play as well as Pandora.  Every now and then I will still pull out an old cd and crank it up in my truck but it's just so much easier to hit that play button on my streaming device. 
What have you been listening to?
I have been listening a lot lately to Indie Rock; Kodaline, Lumineers, Muse, Airborne Toxic Event, and most recently "Before you Go" by Lewis Capaldi, I love the emotion in his voice as he hits the chorus.
What are your aspirations for the future?  
We have another new single coming out here in the next 60 days that I am really excited about called "Drawn to Old Times"  I am honestly excited for wherever this goes moving forward, with the pandemic a lot is up in the air, but also has given me time to reflect some and appreciate in the short time where we have come from and what we have accomplished so far.  We are always looking for new opportunities and what presents itself, ready to take on that new challenge.  I love writing music and I don't see that changing any time in the near future.  I hope we continue to grow as a band and make an even greater positive impact in more lives.  We truly appreciate you having us take part in this, thank you!
Questions answered by: Jeff Kitselman (lead singer)…