AAA Music Approved: Polymancer
aaamusic | On 28, Feb 2021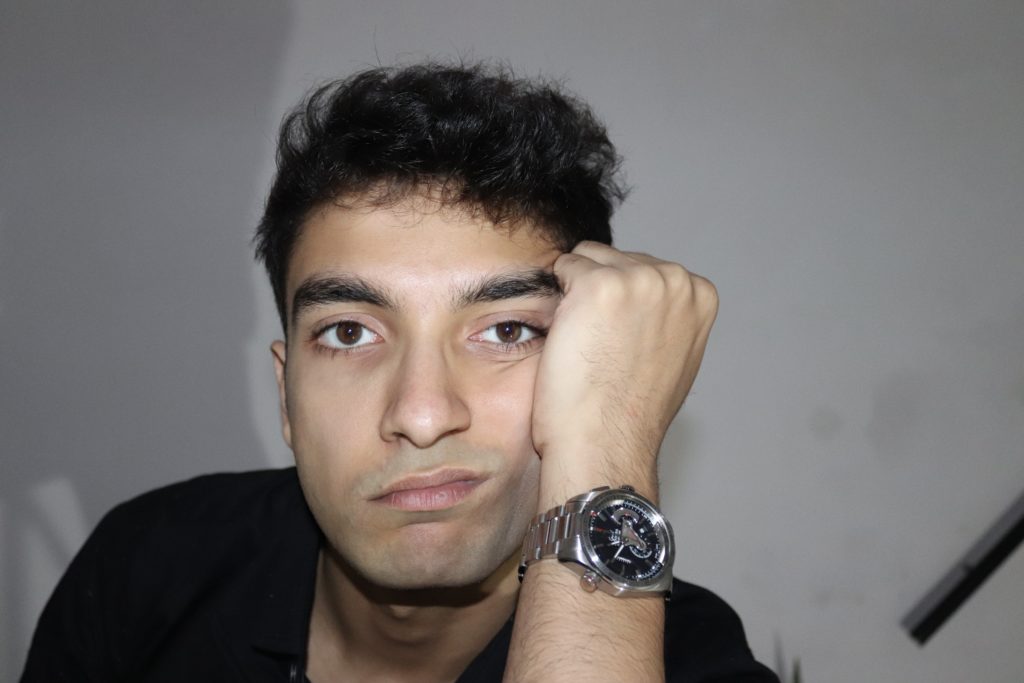 Who are you and where are you from?
Hi, I'm Polymancer. I'm an indie artist from New Delhi, India. I make electronic dream pop music which aims to engulf you more as an emotion than just the sound. I've been in the indie music scene for a little over a year now, with my debut EP dropping on Halloween last year in 2020. 
Having grown since then, I'm looking to release new music in the coming weeks, with Reality being my next single, out March '21. As far back as I can remember, I've grown with different kinds of music around me at all times. From slow rock and roll from the 1950s to German heavy metal from the 90s, or the likes of old Hindi music from the 80s, sound has always been around me in some form. I remember my dad gifted me my first guitar on my seventh birthday, and it seemed really cool but so difficult to get the hang of that I initially wanted to let it to the side. I ended up sticking by it and taking classes to learn how to play for a few years. I started writing poetry at around 7 and my first few songs by the time I was 11, and it just went on from there. Being part of the school band and doing a few small house gigs in Delhi before college was the time we performed Coldplay and Green Day covers. I wrote my first proper releasable song in my second year of college, and took up music production in order to be able to make the sounds I was so inspired by when I heard EDEN, Jeremy Zucker, and The Japanese House. It's been a fun journey since the beginning of lockdown in 2020 when I started doing this professionally, back in May to now, with my next phase of single releases coming up in 2021.
What inspired you to get into music?
I feel like I'm still in the early phase of finding and solidifying with the sound I choose to go with, and I feel Dream Pop ends up being quite a fulfilling phase I'm in right now. I like making the sound fill up the entire landscape as I sit there, and it should be so the sound takes you in rather than you having to put in the effort to take in the sound to begin with. I'm lately quite inspired by the sounds of EDEN, Jeremy Zucker, The Japanese House and Brakence and how they use their voices and sound effects from the general surroundings to fill the scape up, and I feel some elements from a musician's favorite influences can play as a great inspirational factor and give birth to good ideas thereon.
What have you done?
I came out with my debut EP, Dream Caching on October 30, 2020 after a few original single releases, getting over 30,000 streams on Spotify alone through the time. The first song of the EP was I Can't Sleep, which came out with a music video on YouTube October 31, 2020. The release got featured on numerous magazines and blogs like Rolling Stone India, Savaal Magazine, Artist Directory, IndiPotli, and Dabaki and Original Dog formed a promotional campaign to sponsor my next music video for my upcoming single, Reality. I have also been doing online shows and performances in collaboration with SouthBay Live's Sublime Collective, Live From HQ's recent artist showcase, and many more.
What are you like live?
I have done a few house shows which are quite warm and intimate in terms of audience interaction and the overall atmosphere of the event. There's always a bunch of talking about how the songs came about, the inspirations behind them, what's going on in life and the meaning of it all to begin with – conversation proves good in between songs and I feel it really helps the audience bond well with the artist and their inner workings.
What makes you different?
I feel it's the fact that my music can stick to the normal expected format that the industry follows in terms of the commercial formula and structure – intro, verse, chorus, verse, bridge, chorus, chorus, outro, or something along these lines, but also at the same time completely break apart from this and have no actual apparent structure or repeating lines in the song and still sound commercial and follow melodic logic. It's the flexibility I can maintain in the sound as well as fill the space up, so it feels like a cushion for the mind to sit on while you listen to the songs. I Can't Sleep is a good example of sound design in this light, and the next best example is Reality, that comes out in March this year (2021).
Physical vs Downloading vs Streaming…How do you listen to music?
Having lived the first few years of my life in the physical age of the CD and DVD era, I remember buying music and listening to it for the next few weeks at the least until I got more music to listen to again. It was hard convincing my mom I wanted that new Linkin Park CD, but lucky for me, the computer age had just gotten stronger and brighter and downloads and YouTube took over by the time I was 9. I feel it's so much easier to just download or stream music now, but that's the layman speaking, and when it comes to audio quality, CD and vinyl can't compare to a good system with a WAV or FLAC running – but that's just my opinion. Sound is just getting better with technology getting better every day too, and you can't listen to vinyl on the latest Sony or Apple headphones, so that beats the point of having old technology for the sake of nostalgia.
As an artist though, it's more complicated when it comes to distribution and marketing for your releases, because earlier, people would have to buy your music at the end of the day, paying you more than what streaming alone pays, plus the fact that the person would either love the songs or hate them, with one possibility of becoming a real fan and sticking along through your journey as an artist. Now though, it's more complicated, because if the person actually ends up getting to your song and even finds it good but not mind-blowing, they have the availability of ten million more songs to listen to and you get forgotten unless you get playlisted by them. Makes me want to work that much harder on my music, can't lie.
What have you been listening to?
I've lately been listening to music that's similar to the type of music that I make myself. That includes then a lot of EDEN's new releases peaked, no future, The Japanese House' Chewing Cotton Wool – EP, Dominic Fike's Politics & Violence being a new favorite in my playlist.
What are your aspirations for the future?
My next release, Reality, comes out soon in March, with the music video following in April first week. Three more songs are in production right now as well, coming out soon after that, with it all coming together with my second EP later this year. I have a lot of shows and gigs planned to help with promotions too. Major concerts and tours in the country begin in 2022 again, and I aim to build hype till then so I can go on tour once the lockdown restrictions completely ease out.
Questions answered by: Polymancer.…