sleepy sun | AAA Music
aaamusic | On 30, May 2010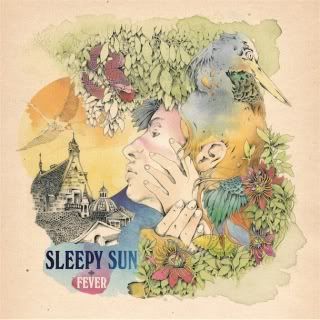 In a warm mid-spring afternoon I find myself listening to Fever, the second new album by Sleepy Sun, a California band from many Californias. They hail from the rolling oak and sage hills of Sierra Gold Country, The San Francisco Peninsula, where Kesey raged and the Dead were once Warlocks, and the forever-sunshine climes of the Southland. They came together – young and garage strutting in the coastal Northern California crucible of Santa Cruz. And there they birthed the Sleepy sound – dead blues shaken alive, razor sharp and ramblin', soul, sonic science and dead-on pop surgery.
So I' m going to taste their sound listening to the first track, whose title, Marina, makes me think of sun and summer. It' a good start, a psychedelic horizon is opening up before my eyes, I can see myself in an acid journey running through Woodstock meadows, delighted by Bret Constantino and Rachel Williams' warbles.
Oniric melody stops suddenly, and my trip too, to change tempo now dominated by drums and distorted guitars that pay tribute to Jimi Hendrix ending these first six magic minutes.
Central to Rigamaroo is harmonic tangle between singers' vocals and the perfect guitars euphony, this tune privileges melody setting aside psychedelia for a while.
Wild Machines brings the band back into the garage for a little shoegazing sustained by grungy and reverb-soaked guitars, with a well balanced arrangement alternating vocals that overtop instruments and viceversa. It's one of the best tune.
Ooh boy is a good breath taking ballad that rocks you like you're on a hammock, while  Acid Love is an interlude as acid as title, made of choirs mixed to guitar distorsions, why take drugs when you can listen to music?
Desert God quietly slinks around for the first couple of minutes, then it  explodes, with a blazing harmonica solo and a thundering Zeppelin beat before giving way to bold, squealing guitar leads. It comes back down to earth with gentle Hendrix / McCready style noodling and a commanding final verse from Constantino.
Open eyes is the first single, easier to listen than other tracks, it reminds the end of '60s sounds, from Janis Joplin to Jefferson Airplane, passing through western movie soundtracks. Stunning changes of rhythm bring a dynamic that keeps the listener uptight until he's knocked out by an amazing riff.
Freedom line has a gospel intro that suddenly explodes into a beating bass line that maintains the whole tune dynamic only supported by vocals and drum, while guitar wait for the end to leave its mark with a great riff.
Sandstorm woman guides the listener to the end of the album, with its ten minutes lasting seems as it wouldn't let him off . The arrangement is a rock blues going in crescendo of vocals and guitars, then changes tempo to end epically like it was a jam inspired by The Doors.
Fever is the honey harmonies and danger wailing of Bret Constantino and Rachel Williams pulled from a tender tangle into steel-strong braid; the wing-on-wing guitars of Matt Holliman and Even Reiss in screaming dives and sweet ascending circles; the lowdown served up tough and thundering from drum and bass authorities Brian Tice and Jack Allen. This album will make you dive into an acid-psychedelic rock sea, it's a nostalgic journey through an era that won't come again, but in this desolation we need to dream once again, so Sleepy Sun will be our California dreaming.
Author: Roberta