the damned things | AAA Music
aaamusic | On 31, May 2010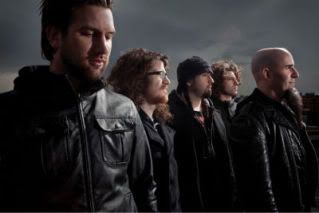 AAAmusic and The Damned Things are giving you the chance to win a pair of tickets for the Borderline show in London, on June 10th!
Don't miss the chance to see the supergroup of the summer, with Joe Trohman from Fall Out Boy, Andy Hurley, Keith Buckely from Every Time I Die, Rob Caggiano and Scott Ian from Anthrax!!!
Contest Rules:
To enter the competition all you have to do is to send us a question you would like to ask to the band. The best 10 questions will be used to interview the band and the best one will grab the tickets!!!
Send your question, together with your full name and the name of your guest in case you are the winner, to:
Hurry up! Entries close on Monday 7th at noon!
"We just started working on songs together and I really dug it," Scott exclusively revealed. "It just felt really good. From there we decided that obviously both of us are pretty busy in our day jobs but let's see what we can do with this. Even if it takes us five years to make a record, why not?
"It's super fun and it's something that we do totally take seriously because we love the music we've created. People think of Fall Out Boy and they think of Pete Wentz and Patrick. These two guys, man, they're fucking hardcore dudes. Joe writes some amazing riffs. We have this song called 'A Great Reckoning' that I swear to God, this song could be on any Thin Lizzy record. He fucking blew my mind with this song and I just can't wait for people to hear it."
Commenting on the project, Joe told us: "Scott's right hand is the reason I got into playing punk rock, hardcore and metal! Having Keith as part of the mix is insane, we all know he writes incredible lyrics but he is also a really good singer. That is showcased in Every Time I Die, but we want him to go more into singing than screaming on this project."