white label yellow tag | AAA Music
aaamusic | On 01, Jun 2010
London, 27th May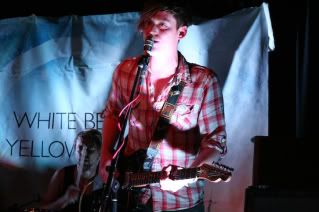 Tonight White Belt Yellow Tag are playing at the very cool venue The Lexington in Angel for the launch of the EP Licensed To Drill, which features their track Ode.
Bit of a strange crowd tonight, I arrive at the venue about half an hour before the band are due on and the place is packed.  I make my way downstairs to get a drink.  When i return back to the stage area of the venue the crowd has dwindled, which is a shame as they miss an excellent show!
Playing their last UK gig for the time being the band put on an very tight show and are very confidant on stage at one point guitarist Justin Lockey playing his guitar with a drum stick!  Sounding like a mixture of of Echo and The Bunny Men, Doves and even a little bit of Coldplay, with vocalist Craig Philbins sounding very much like Chris Martin at times, but this is no bad thing as he has an excellent voice full of emotion and energy.
Its a shame the crowd had gotten smaller than it was before, the band and the songs played tonight deserved a much bigger audience.  Hopefully next time they return to the UK they will get to play to the large crowds that they deserve.
Author: Malcolm Walker – Arnott
Photo: Malcolm Walker – Arnott