Introducing EDEI | AAA Music
aaamusic | On 09, Jun 2010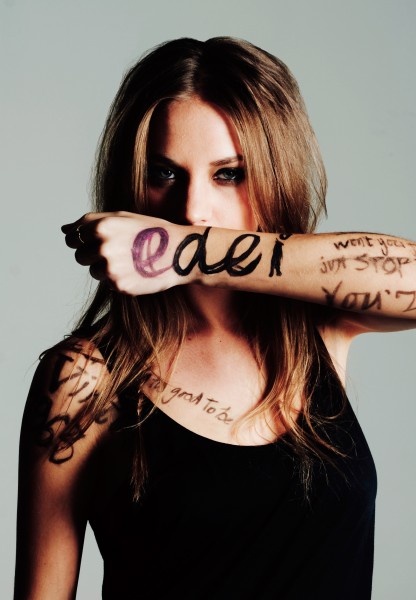 There are not many girls who by the tender age of 21 can claim to have not only sung with Jay-Z on Top Of The Pops but also toured the UK with the country's biggest girl band.  But then EDEI is no ordinary 21 year old.
"When you put it like that I suppose it does sound quite impressive", laughs the young singer whose soul-steeped debut single 'IN MY BED' is released this July.  "To be honest I'm always focussed on what I'm doing right now.  And to be where I am at the moment, to be writing, recording and about to release my own songs, feels great."
With her fair hair, tanned complexion and model-like looks, EDEI could easily pass for an au naturel European beauty – in fact she's a London girl, the only nod to Europe being the Spanish word 'creencia' tattooed in script on her arm ("it's Spanish for 'Belief' – a word I live by and also the title of my favourite song by Gavin McGraw.")
Singing from almost as soon as she could speak, EDEI's earliest musical memories come from sitting in the back of her dad's car on long summer drives listening to Rod Stewart.  "He absolutely loved Rod!  And I really didn't at the time!  But actually that's probably where I got the raspy edge to my voice that I have now – listening to Rod in my dad's car!  Now I can appreciate it much more," says EDEI who namechecks the likes of soul legends Marvin Gaye and Patti LaBelle alongside childhood pop heroes like Michael Jackson and later, Justin Timberlake, in helping her form her musical tastes. "Oh – and Lauryn Hill – I would just play that album over and over on loop".
However it was with another legend – hip hop heavyweight Jay-Z – that EDEI had her first brush with pop fame. Only 10 years old, EDEI's natural stage presence and big voice had won her a role in the West End production of 'Annie' and she found herself on telly singing 'Hard Knock Life' with the world's biggest hip hop superstar.  "I had no idea who Jay-Z was to be honest, I think I was more impressed that Abs from Five was there," she recalls with a laugh. "I keep trying to find it on YouTube and it's never there.  Probably for the best."
It was as a teenager that EDEI's future as a solo artist began to take shape, rather contrarily while having decided to study drama full-time.  "To be honest I hated it. It totally took the fun out of drama for me," she says. "Everyone else was so busy being eccentric and competitive, that I sort of retreated into myself. That's when I started to really concentrate on my music, that need to express what I was feeling."
The next few years saw EDEI throw herself wholeheartedly into developing as a solo artist.  She would write to producers she admired and implore them to work with her, whilst taking any opportunity to perform in front of increasingly appreciative audiences.  Offers inevitably came for EDEI to join girl groups or audition for the likes of X Factor along the way, but she was determined to make it on her own, with her own sound.
Then, ironically, the opportunity for experience came along big time when she was offered the chance to support Girls Aloud on tour last year.  "It was the best two months of my life.  I came on just before the girls, so I was playing to full arenas, which was amazing," she says of the 36 dates she did with the band.  "We would hang out in the bar after shows.  I got on well with Nadine – she was really friendly – and Sarah was hilarious."
It was an introduction, by vocal coach David Grant, to the team that discovered and developed Joss Stone that cemented her musical direction. "I knew I didn't want to be manufactured but obviously needed some advice and wanted to have experienced people around me. They totally supported my decision not to go down the manufactured or reality show route.  Maybe it's my stubbornness too – if someone was telling me 'wear this' and 'sing that' it would drive me insane."
EDEI is now busy gearing up to the release of her debut single 'IN MY BED' and putting the finishing touches to her debut album, regularly flying to Dublin to work with Boston-born 'Misreid' one of her co-writers and producer of the pop, funk and soul rooted 'EDEI' sound – from whom she's been musically inseparable since they were introduced a year ago.
"Misreid is amazing – when we met we just clicked, and it's so great to work with a female producer," says EDEI.  "We recorded a lot of the tracks in New York which was an amazing experience.  We had three of Mary J Blige's backing singers on the sessions – I was just in awe of their harmonies – and the brass section who regularly work with Alicia Keys, who I love, so I spent the whole time getting on their nerves pestering them for stories about her."
As well as the uptempo pop-soul of 'IN MY BED', the pair, along with highly-rated singer songwriter Conner Reeves, have also created the sultry pop-soul sound of future singles 'INSIDE INFORMATION' and 'LOVED' (a song written around and featuring Jackie Wilson's soul classic 'To Be Loved'), enlisting along the way the talents of Tom Elmhirst, who mixed Amy Winehouse's 'Back To Black' and Adele's 'Chasing Pavements'. Quite some roll call for quite some girl.
With her cool vocals, refreshingly independent spirit and sweetly soulful vibe EDEI is all set to make a big impact this summer.