General Bovine & The Justice Force 5 – Fight The Fight/J.U.S.T.I.C.E. Force Dance
aaamusic | On 01, Jul 2010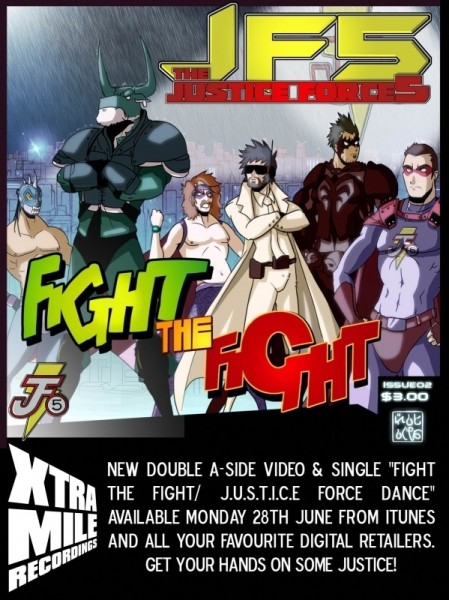 Upon reading the press release for this band and their new double A-side single, my jaw dropped and I was sorely tempted to copy and paste it all and leave it at that. The Brighton-based General Bovine & The Justice Force 5 bill themselves as a superhero rock group, counting in their ranks individuals such as a Lucha Libre vampire and a half-human half-cow mascot. But this is after all a music review, and these tracks annihilated the high expectations of my inner teenage boy with a ka-pow and burst of spandex, glitter and primary colours.
'Fight The Fight' is screaming to be the theme song of a cartoon. Devastatingly simple melody-wise, starting with a bass buildup over a police siren, before the retro synth starts up and drags in with it some serious powerchord riffing and heavy retro synth stabs. The vocals are bordering on melodramatic in a style reminiscent of David Bowie at his most whimsical, or perhaps Andrew Eldritch if he remembered his sense of humour. The chorus is addictively singalong and the atmosphere is truly something else. It shouldn't be this captivating, but it is. The whole thing takes you back to when you would get up at 6 to watch cartoons on a Saturday morning; gleeful (and possibly radioactive) enjoyment shines from this track
'J.U.S.T.I.C.E. Force Dance' is a much heavier track, with some rumbling bass and kick-drum action that feels ready to pound its way out the speakers, the synths wailing a siren sound, and even some space-age metallic guitar. However the lyrics are entirely tongue-in-cheek which, coupled with beautifully dramatic and serious delivery, makes this a contender for the most fun song of 2010. The synth/whisper/drums buildup near the end of "I always put my trousers on before my pants" is truly inspired, and leaps with cape billowing majestically into a real headbanger of an ending that wouldn't be out of place on a more aggressive Wildhearts song.
I have no idea what planet these caped crusaders have come from, but in a rock 'n' roll land blighted with a total deadpan seriousness, The Justice Force 5's combination of KISS' story invention, Mindless Self Indulgence's synth-metal sound, and The Mighty Boosh's debauched absurdity is not only welcome but necessary. Throw the horns in salute to the glitter-clad saviours of rock and roll!
Author: Katie H-Halinski