Scholars & Lights Go Blue Co Headline Tour w/ Max Raptor & Fearless Vampire Killers!
aaamusic | On 05, Jul 2010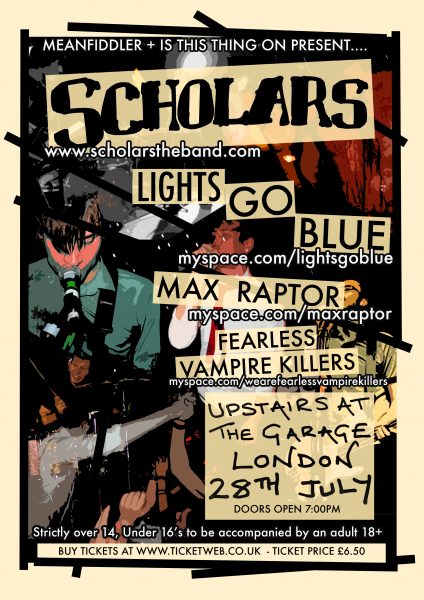 SCHOLARS & LIGHTS GO BLUE plus special guests MAX RAPTOR and Fearless vampire Killers
SCHOLARS & LIGHTS GO BLUE plus special guests MAX RAPTOR and Fearless vampire Killers
(co headline tour)
28/07/2010
Upstairs at The Garage
http://www.ticketweb.co.uk/user/?region=gb_london&query=detail&event=390922
Hello! We are Scholars, four friends from Hemel Hempstead with a passion for progression.
We've grown up listening to bands like Braid, Hundred Reasons, Death Cab for Cutie, The Faint and Tears for Fears. When we write songs we tend to leave traces of influences all over the place. But hopefully what we end up with just sounds like…Scholars.
We are Sam, ruggedly good looking, talents ranging from singing to yelling to playing keyboard (and all things in between). We are Chris, a bass playing, deep-voiced and serious man who can also speak French. We are Tom, broad-shouldered, athletic and prone to penning novelty Christmas hits. We are Mike, who hits things with sticks.
So far, we've been lucky enough to play with fine bands such as Hundred Reasons, Canterbury, Tubelord, The Xcerts, Blakfish, The Maple State, Baddies and Dutch Uncles. We're hoping to be in everybody's ears before music is made exclusively by robots in the not so distant future.
LightsGoBlue are an electro/pop/rock duo hailing from Gravesend in Kent.
In 2009 they toured the UK as main support for ENTER SHIKARI, HADOUKEN and CANTERBURY and have just finished touring with new FEEDER side-project, RENEGADES in January 2010. They were invited last summer to play 'Stage Dive Day Out Festival' in Sweden, with ANDREW W.K. and THE GHOST OF A THOUSAND as well as playing a 'sold out' show at Europe's leading new music festival, 'The Great Escape' in Brighton.
LightsGoBlue's remix of Enter Shikari's 'No Sleep Tonight' was included on CD release of the single and on Enter Shikari's 2010 'TRIBALISM' compilation released in February.
Demo tracks can be heard over at; www.lightsgoblue.com