Gorillaz Announce First World Tour!!
aaamusic | On 22, Jul 2010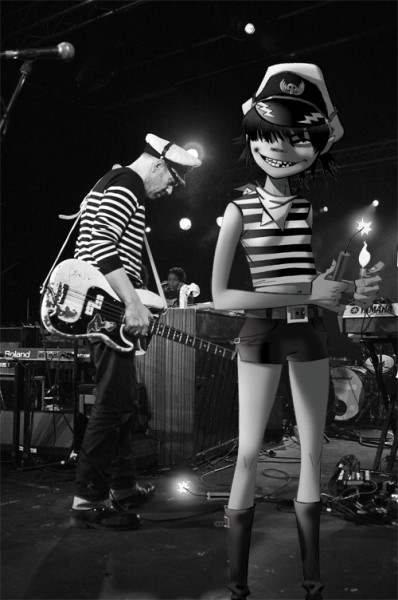 Gorillaz are set to take their Plastic Beach around the world later this year.  The band have today confirmed they play 20 shows in North America (including their first ever show at Madison Square Garden), 10 nights across Europe, including 2 nights at London's 02 Arena, before heading to Asia and down under for 7 shows.
Gorillaz fanclub, the Sub-Division, will benefit from a 48 hour pre-sale ahead of tickets going on general sale.
This is Gorillaz first world tour.  The previously announced UK tour will now become part of the "Escape to Plastic Beach" World Tour, with the live shows moving from September into November to include an additional show at the Brighton Centre.
Gorillaz released their third album Plastic Beach in March of this year.  The album swept charts around the world with fantastic reviews across the board.  Gorillaz characters Murdoc, Noodle, 2D, Russell Hobbs escaped the underworld Kong Studio's – home to previous Gorillaz multi platinum chart toppers Demon Days and Gorillaz – to set up shop on a remote island in the Pacific. Lead by Stylo (the video for which starred Bruce Willis), the album features the tracks Superfast Jelly Fish (feat. De La Soul) and Rhinestone Eyes.  Melancholy Hill the first commercial single from Plastic Beach will be available on CD and vinyl from July 27th.
Longtime Murdoc Niccals delegates, Damon Albarn and Jamie Hewlett have created a live show around the band's three records, their very first being a headline performance at the Coachella Festival in USA in April.  They went on to put together shows at London's Roundhouse which were globally distributed on MTV. Gorillaz have since played in front of more than 400,000 fans headlining Glastonbury, Roskilde in Denmark and Benicassim Festival in Spain. This week Gorillaz become the first major Western band to play in Syria when they play the ancient Citadel in Damascus on July 25th following a sold out show at the Byblos Festival in Beirut.
The live show is a wild and organic experience, with the Gorillaz band holding things down behind many featured artists and video animation, artwork and stage design by Gorillaz director collaborator Jamie Hewlett. While Gorillaz members Murdoc Niccals and Co have so far been thwarted in their attempts to appear on stage, the Gorillaz live band includes Damon Albarn, Mick Jones and Paul Simonon, Mike Smith, Cass Browne, Jeff Wootton and Gabriel Manuals Wallace, as well as additional backing singers, brass sections and a full string ensemble.  Artists that have performed in previous shows have included among others the likes of De la Soul, Bobby Womack, Booty Brown, Mos Def and UK Hip Hop stars Kano and Bashy.
The new show at Brighton Centre on 18th November is set to go on sale at 9:00am on Friday 30th July. All other UK shows are on sale now. Full details are available at www.gorillaz.com / www.livenation.co.uk
Ticket holders unable to make the rescheduled UK dates should go to point of purchase for further information.
To join Sub-Division go to www.gorillaz.com/subdivision.
EUROPEAN / UK TOUR
11th November – Dublin O2
12th November – Manchester Evening News Arena
14th November – London O2 Arena
15th November – Amsterdam HMH
16th November – London O2 Arena
17th November – Birmingham NIA
18th November – Brighton Centre
21st  November – Berlin Velodrom
22nd November – Antwerp Lotto
23th November – Paris Zenith.
US TOUR
Gorillaz will tour North America in October (dates and venues to be announced shortly).
ASIA PACIFIC
AUSTRALIA
6th December – Perth Burswood Dome
8th December – Adelaide Entertainment Centre
11th December – Melbourne Rod Laver
16th December – Sydney Entertainment Centre
19th December – Brisbane Entertainment Centre.
NEW ZEALAND
21st December – Auckland Vector Arena.
HONG KONG
Gorillaz will play Hong Kong (to be announced shortly).