The Slips release new single!
aaamusic | On 18, Aug 2010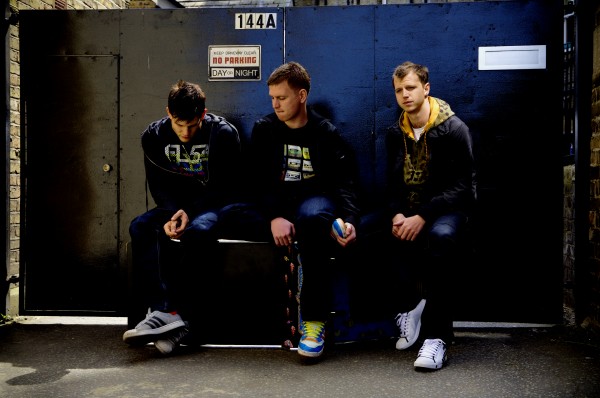 Established electro-glitch renegades The Slips proudly announce their anticipated return to the UK dance milieu this summer with the release of their new single 4 Elements To Make Good Music.  Available to download through iTunes on September 6th 2010 this absurdly, dirty and outrageously impetuous track is itching to explode and set to instigate all chaos necessary.
Having previously worked with esteemed producer Mirwais on Madonna's 2003 album American Life, and having worked on tracks for the likes of Massive Attack, Bjork and Fischerspooner, founding members Rob Haggett and David Treahearn made the fitting decision to join forces, throw a few of their own cheeky tracks onto myspace and thus, The Slips were born.
Famed for their impressive catalogue of esteemed remixes (The XX, Crystal Fighters, CSS, Kylie Minogue), The Slips were able to recruit a notable following.  Aside from revered French producer Mirwais the (then) duo were able to gain support from the likes of Radio 1 DJ Rob da Bank, Ed Banger Records Vicarious Bliss and Brazilian New Wave act CSS.  With a vast repertoire of popular remixes and mash-ups alike under their belts and a distinguished fan base, The Slips were ready to take their project to the next level and eagerly employed the services of drummer Ian Townshend.  A 2009 Glastonbury slot combined with an alluring display of 8-bit retro visuals and additional, live rhythm placed The Slips on a platform entwined with unique integrity and prolific stature.
One third of The Slips Rob Haggett had this to say, "We're so excited about bringing 4 Elements To Make Good Music to the live circuit.  We're extremely proud of the new single and can't wait to show crowds what we're made of!"
The Slips play the following dates this Summer 2010:
August
Friday 20th 93 Feet East, London
Tuesday 24th Café 1001, London
September
Thursday 23rd Dingwalls, London