Ray Davies – See My Friends
aaamusic | On 09, Nov 2010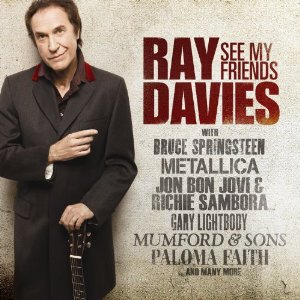 When I read the tracklist I couldn't believe it, it is one of the best tributes ever seen. Actually it's a self-tribute from the singer of one the best band of all times to his own band – I'm talking about Ray Davies and the band is The Kinks. He decided to release a sort of a greatest hits, but it would have been too simple and not worthy of band fame, so he called the best today's artist to reinterpret The Kinks' classics…a couple of names just to have an idea of who Davies' friends are: Bruce Springsteen and Bon Jovi. I was so excited that I listened to See My Friends in one breath!
The album kicks off with Better Things, sung by Davies and The Boss himself and it's soaked of Springsteen's soul, the arrangement as the typical joyful guitars, it could be a great tune of his next album, but you know and recognize the mastery of Kinks behind.
Celluloid Heroes starts with Bon Jovi's voice, it's so fascinating and caressing, I love him! Richie Sambora contributes with choirs and the unmistakable touch of his guitar.
The third track intro is amazing: Mumford & Sons sing a cappella Days that after one minute turns into This Time Tomorrow. I am very affected because guests succeed in making the tune own but without depersonalizing the greatness of the original. Also in this case the arrangement is the typical Mumford folk, but not so different from he first version, so the tune is richer, but recognizable.
A Long Way From Home reinterpreted by Lucinda Williams is heartbreaking, it becomes an old country-folk ballad while You really got me really packs a punch! But could it be any different when the guest are Metallica?
I guess it will be very criticized, but I can't do it, I love it from the heavy guitar on the backdrop to the powerful Hetfield's vocals, it's really punk and absolutely rock 'n'roll!
I appreciated Paloma Faith as well, her version of Lola is rascal and sexy, her voice is very warm.
Waterloo sunset is a masterpiece and it doesn't need any change, so Jacksone Brown performed it without adding anything in particular, it's a moving acoustic version.
Till the End of the Day still sounds so 60s, probably because it was sung by a same age singer, Alex Chilton (passed away last March), while Dead End Street sung by Amy McDonald gained a certain retro charm, it's one the more interesting versions.
David Watts is brilliant with the contribution of The 88 even if it's not so different from the original. Tired of waiting for you is made so melancholic by Gary Lightbody's voice, he knows how to variate it to create a nice contrast with the melody.
The end of the album is a bomb, All Day And All Of The Night/Destroyer are two songs that made the music history, but this version with Billy Corgan will be remembered for other 50 years, the arrangement is a bit more epic with a great blues piano solo, and Ray Davies talks on music instead of singing, but he can do what he wants with this song.
See my friends really aroused enthusiasm in me, because I love The Kinks and it is not one the classic boring tribute, songs took a new life from this collaboration and they can be listened by very young people that I'm sure will appreciated and love them and will be curious to find out who The Kinks are.
The only critic I can do is that Ray Davies could dare more and make deep changes to his songs, but I think that they are heritage of all the people and deserve a big respect, so well done.
Author: Roberta Capuano