Sparkadia on Great Bands and Good Looking Audiences
aaamusic | On 07, Feb 2011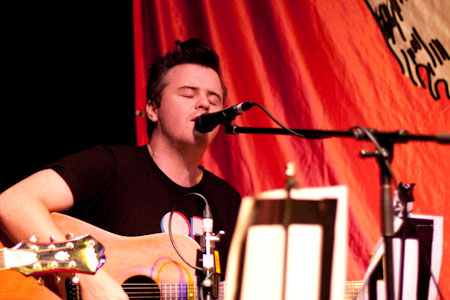 AAAMusic: Hiya Alex, how are you today?

Alex Burnett: I am very well thankyou. I am up uncannily early and looking out my window…there's a hell of a lot of action that happens before i usually wake.
AAAMusic: Can you tell us a bit about the history of Sparkadia and how you come to be where you are today?
AB: Sparkadia formed a few years ago in Sydney. We made a demo that travelled the world and ended up in the hands of Jamie Davis, who ran the indie label, Ark Recordings. We subsequently made our first record, "Postcards" in 2008 with Ben Hillier in London and spent the following eighteen months touring the globe. When everyone dethawed from excessive touring, the others wanted a break and I wanted more of the same, so moved to London with a bunch of demos and the idea to make the biggest, boldest odd pop record.
AAAMusic: Have you ever considered going solo under your own name?
AB: I thought that the concept of changing to my real (and slightly boring anglo-saxon name) seemed a little too soon and naff.  Many of the songs on "The Great Impression" are big pop songs and i feel that when your stage name is your real name and you're a male singer, most people assume that you're an acoustic troubadour, which I am obviously not. Plus there's loads of bands that have a singer/songwriter with a band name such as Bat For Lashes, ELO or even Nine Inch Nails so if it's good enough for Trent, then it's good enough for me. Ha.
AAAMusic: What would you say inspired you when writing this album?
AB: Most of my heroes for this record were the writers and producers of big pop tunes that weren't too obvious or cheap and nasty. There is a fine line to tread, however, so far so good. I was into the pop music of my childhood circa 1989-1992 as well as late Roxy Music, Bowie in his Berlin years, Roy Orbison, Talking Heads as well as Debussy and Tom Waits from the Island years. As for the sound, I wanted to make a studio album rather than a live record – which was essentially what occurred on "postcards". After a trip to Darwin in Australia in 2009 I became obsessed with Javanese Gamelan and starting using gongs and other left field instruments such as using metal poles for snare drums and junk percussion for hi hats as well as emulating gospel choirs and harpsichords and whatever else seemed to fit in the grand and deluded musical world I was creating.
AAAMusic: What can fans expect from the album?
AB: Someone said to me that the album was like the last 40 years of pop music in 40 minutes. Apart from that, I suppose the modus operandi was to make the biggest, boldest, most romantic album possible.
AAAMusic: You've got a busy tour schedule over the next few weeks, is touring something you enjoy?
AB: I love playing on stage, partying after the show, waking up in a different city and all the other mad things that go with touring. I suppose that lifestyle can be draining for some, but I love the adventure and ridiculousness that goes with it.
AAAMusic:  Have you toured with Operator Please before and how did the tour with them come about?
AB: I think the last time we played together was when we both did Glastonbury in 2008. Since then we've been slightly out of sync with our touring schedules. I actually had written a song for Amandah as she was a fan of the first album and wanted me to write a song for her. We started chatting and hanging out a bit and writing a bit more and started talking about a mega tour and put it to the powers that be and it's all fallen into place very nicely.
AAAMusic: Do you think UK audiences differ greatly to Australian ones?
AB: Ha. Well…not really. Each night varies in any country of the world. I would say that Norway has the best looking audiences and that the scottish are the most wild. English audiences appreciate a good show, even if they make you work for it!
AAAMusic: Do you have any plans for any festival shows this summer?
AB: Yes. There are many plans for festivals, however none are announceable at this stage sadly. I'm sure we'll do all the worthwhile and fun ones. I would love to play in Iceland a the airwaves festival if i had a choice…
AAAMusic: Any great artists you want to recommend?
AB: I'm really into The Royal Palms at the moment. They did an awesome remix of "Mary" for our 7″ release and they continually deliver on putting out solid remixes and their own stuff is even better.
Author: Josie Payne