A Guide to Making the…'Lost Forest' – courtesy of Seeräuber Jenny
aaamusic | On 23, Feb 2011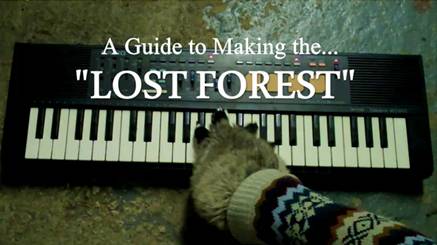 Something to make and do, with paper and glue…! Seeräuber Jenny have put together a little short film walking you through the creation of the diorama behind their new release 'Avalanche', out March 7th.  Main singer/songwriter Fran Barker hones in on here presentation skills to present you with this little woodland wonder here: http://www.youtube.com/watch?v=xox0gjF8Hbo
Seeräuber Jenny is collaboration between singer /songwriter Fran Barker and musician / producer Neil Claxton. Fran hails from Chippenham in Wiltshire and Neil is based on Manchester. Neil has previously enjoyed a successful career with big beat leading lights Mint Royale, who have enjoyed No.1 and No. 2 singles, as well as collaborating with the likes of Lauren Laverne and Duffy and doing much remix and soundtrack work.
Seeräuber Jenny is a combination of an old English folk sensibility with the cinematic pastoral sweeps of Americana; a Super 8 sound bolstered by an understanding of things electro. This is not finger-in-ear folk though, nor the earnest warbling of bearded men, but rather the best of old and new worlds, a cocktail of richly textured melancholy that recalls the mini-melodramas of Arcade Fire, the haunted melodiesThe Cure, the uplifting musical surges of Fleet Foxes or the fragile story-telling of Bright Eyes.
The new single 'Avalanche' is out March 7th on Faith & Hope Records a striking follow up to their debut, this single is another compelling and intensely layered slice of lo-fi melancholic pop. The B-Side 'To Decide (We'll Cast Lots)' accompanies the release showing a dynamic side to the band's creative musings, a beautifully crafted melody with heart-felt introspection.
TOUR DATES!
If you haven't had a chance to witness the enthralling 'woodland musings' of this duo,  now is your opportunity!
March
Wed 2 – Manchester The Ruby Lounge
Thurs 3 – Birmingham Hare & Hounds
Fri 4 – Bristol Start the Bus (Supp. Hjaltalin)
Mon 7 – London Lexington
Tues 8 – Nottingham Bodega
Wed 9 – Cambridge Portland
Thurs 10 – Hull Fruit
Fri 11  – Glasgow King Tuts
http://www.seerauberjenny.com/