The Computers 'This Is The Computers' Release May 16th + Tour Dates
aaamusic | On 12, May 2011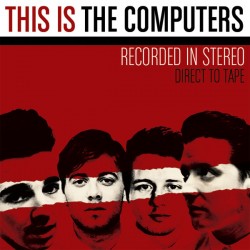 The Computers
This Is The Computers
Genre: –
Label: –
Release Date: 16.05.2011
Catalog Number: –
EAN/UPC: –
THE COMPUTERS
'This Is The Computers' (One Little Indian)
Release Date: May 16th May
Cat. No.s: tplp1095cd/ tplp1095dl
"A punk rock n'roll riot with the gut punching barrages of the Circle Jerks and the satirical elegance of a society of scholarly gents." NME
"50's-fuelled riffery and scream along gang vocals with an intensity that would make Chuck Berry roll in his grave." Rock Sound
"A snotty attitude and great, gritty tunes." Kerrang!
From Exeter's very own tight-knit and fertile punk scene, The Computers return in May with 'This Is The Computers', their debut full-length album for One Little Indian Records. Recorded in four short days in the Californian home of John 'Speedo' Reis, more of whom in a minute, it was recorded live, to tape. That means no overdubs. No computers were involved (irony). There were no tweaks, corrections or auto-tuning – this is the real deal, baby. Warts and all, as Lemmy would say.
From the opening 121 seconds of clatter of 'Where Do I Fit In?' through the beautiful thrusting discordance of 'Hot Damoclese' to the hellacious 12-bar strut of 'The Queen In 3D', it is apparent that this is a debut that leaves you no room to catch your breath. It is punk that dares to have a swing in its step; hardcore that knows all the Northern Soul moves. There is no ambiguity or airs of pretension here. The Computers play sartorially-snappy supersonic rhythm and blues with larynx-shredding vocals.
A major breakthrough came when the band were taken under the wing of the aforementioned John 'Speedo' Reis, of Rocket From The Crypt / Hot Snakes / Sultans/ The Night Marchers / Swami Records fame. In spring 2010 the quartet relocated to Speedo's house in Rancho Santa Fe, just outside of San Diego to record This Is The Computers in four days. Four days! On occasion Speedo would put down his beloved cigars to douse the album with his own six-string magical contributions. Being one of the hippest men in America, Speedo then tipped One Little Indian off to The Computers, who promptly signed the band (they thought came from California rather than Devon).
Having recently toured with Gay for Johnny Depp and Alexis On Fire, the band are now looking forward to the release of their album on May 16th as well as their oncoming dates (below):
The Computers UK Tour Dates
May 9th York, The Duchess
May 10th Wrexham, Central Station
May 11th Guildford, Boileroom
May 13th Bridgwater, Bridgwater Arts Centre
May 18th London, Macbeth
May 19th London, Underbelly (Stag And Dagger Festival) – 8.30pm
May 19th Kingston, New Slang – Album launch club night
May 21st Liverpool Academy 2
May 22nd Lancaster, Library (supporting Duke Spirit)
May 23rd Manchester, Academy 3 (supporting Duke Spirit)
May 24th Dunfermline, PJ Molloys (supporting Duke Spirit)
May 25th Glasgow, King Tuts (supporting Duke Spirit)
May 26th Newcastle, The Cluny (supporting Duke Spirit)
May 27th Birmingham, HMV Institute (supporting Duke Spirit)
May 31st Liverpool, Mojo (supporting Duke Spirit)
June 1st Bristol, Thekla (supporting Duke Spirit)
June 2nd Portsmouth, Wedgewood Rooms (supporting Duke Spirit)
June 3rd Brighton, Audio (supporting Duke Spirit)
June 5th Intro Festival, Middlesbrough