The Magic of The Beatles at the St Helens Theatre Royal
aaamusic | On 26, May 2011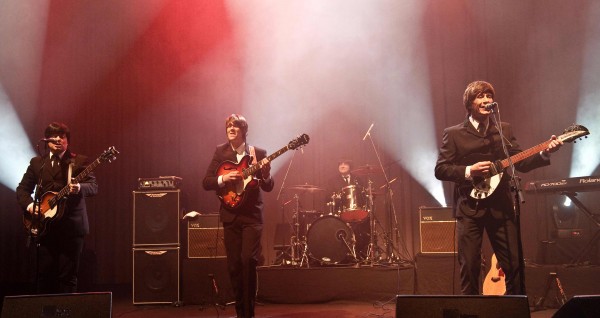 The Magic of the Beatles, celebrating The Beatles' Mop Top roots to the psychedelia of Sgt Pepper and beyond, plays the St. Helens Theatre Royal on Friday 10th June at 8pm.
It has been nearly 50 years since The Beatles first played St Helens in June 1962, debuting at the Plaza Ballroom, earning the princely sum of £25.
The live two hour concert spectacular The Magic of the Beatles commemorates the occasion, returning to the St Helens Theatre Royal with a brand new production following last year's acclaimed performance.
Producer Michael Taylor said: "The Magic of the Beatles is a two-hour spectacular featuring superb costumes and a cast of skilled musicians and singers. It authentically recreates the live concert shows of John, Paul, George and Ringo that generated fan hysteria never seen before or since.
"It's the most authentic Beatles show to take to the road, even down to original guitars and amps used by the band."
The cast of The Magic of The Beatles choose from a set list comprising of more than 50 million-selling hits, including 'Love Me Do', 'Twist and Shout', 'Yellow Submarine' and Back In the USSR'.
PERFORMANCE DETAILS:
THE MAGIC OF THE BEATLES
Friday 10th June 2011 – 8.00pm
St Helens Theatre Royal
Tickets: £19.50
How to book – Book in person at the Theatre Royal Box Office Corporation Street, St. Helens, Merseyside WA10 1LQ (Mon – Sat 10am – 5pm) Alternatively call 01744 756 000 or click www.sthelenstheatreroyal.com