Cosmo Jarvis – Sure As Hell Not Jesus – Out Now
aaamusic | On 01, Jun 2011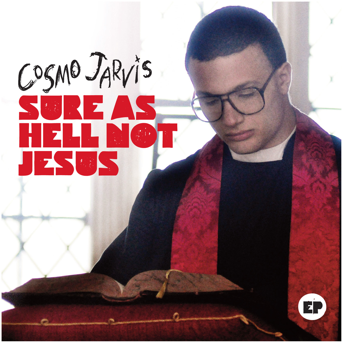 "Sure As Hell Not Jesus", the second track to emerge from Cosmo Jarvis' forthcoming sophomore album "Is The World Strange Or Am I Strange?" is available worldwide digitally now.
The single-led EP will is backed by three brand new tracks – "What's Wrong With Betty (Part I)", "Road Closed" and "Why Do Angels Make Me Cry?".
Following on from the outrageous success of the anthemic "Gay Pirates", "Sure As Hell Not Jesus" is another perfect demonstration of the eccentric talents of Cosmo Jarvis. Building from a low-key, introspective guitar twang into a chorus of affable electric swagger, it envelops all of Cosmo's inimitable talent into a brilliantly diverse whole. Guitar solos, banjos, congregations of surf-like vocals and sauntering bass-drum combinations – all markers of his uniquely brilliant songwriting style. With it's accompanying (and ever controversial) video being brought into the light of day on Good Friday of all days, Cosmo Jarvis further cemented his status as one of the forerunning audiovisual auteurs of this new viral generation.
Cosmo is already known for his thought-provoking visuals. His viral sensation "Gay Pirates" has received over 460,000 YouTube views since it's debut last November, and attracted the notice of media on both sides of the Atlantic, with his YouTube channel as a whole reaching over 1.3million hits.
"Is The World Strange Or Am I Strange?" is due for release August 2011.
EP Available Now – Click here to buy from iTunes: <http://itunes.apple.com/gb/preorder/sure-as-hell-not-jesus-ep/id431589370>
SURE AS HELL NOT JESUS on YOUTUBE
SURE AS HELL NOT JESUS on SOUNDCLOUD
Cosmo Jarvis – Sure As Hell Not Jesus by Two Tap Digital
SURE AS HELL NOT JESUS WITH THE LIVE ASS BAND on YOUTUBE