Bombay Bicycle Club forthcoming album information, live stream, and free single remix released
aaamusic | On 08, Aug 2011
BOMBAY BICYCLE CLUB
Album: A Different Kind of Fix
Released: 29th August 2011
Single: Shuffle
Released: 22nd August 2011
Label: Island
Tracks: How Can You Swallow So Much Sleep / Bad Timing / Your Eyes / Lights Out, Words Gone / Take The Right One / Shuffle / Beggars / Leave It / Fracture / What You Want / Favourite Day / Still
Bombay Bicycle Club release their third album, 'A Different Kind of Fix' on August 29th through Island Records. In a little over three years, the band will have released three LPs – an extraordinary and increasingly rare feat in the 21st century music industry. From the teenage indie kicks of their debut; to the sparse, timeless folk of last summer's top ten album, 'Flaws' (nominated for an Ivor Novello Award); the quartet open a new and beguiling chapter with, 'A Different Kind of Fix', one that cements their place at the very forefront of British bands in 2011.
Recorded in Hamburg, London and Atlanta, 'A Different Kind of Fix' captures the sound of a band effortlessly progressing and innovating at a startling rate. Guitars are firmly plugged back in for album number three, but added to the mix with potent results are synths, sampled loops, layered vocals from all four band members and washes of reverb throughout.
Production-wise, the album reunites BBC with Jim Abbiss – who produced their debut – and also introduces them to Ben Allen – noted for his work with Animal Collective – whilst lead singer, Jack Steadman co-produces throughout.
Indeed, Jack has been quietly making electronic music as a bedroom side-project for the past few years, and these sounds gently permeate throughout the rich and textured production on 'A Different Kind of Fix'. An electric guitar album with a human heart for sure, but one with a bionic pulse.
The sheer breadth of styles and range of influences on display across the record is startling.
First single, 'Shuffle', emerges from a looped piano sample to burst forth into one the band's biggest songs to date, as the piano loop recruits gargantuan drums and bass that march to an epic chorus on their way to a house break of Balearic proportions.
Album opener, 'How Can You Swallow So Much Sleep' is all marble steeped vocal loops and breathy samples, which are also used to devastating effect on 'Lights Out, Words Gone': a song of such rarefied beauty and rhythmic hooks, one imagines a lost, codeine-fuelled Talking Heads album.
'Take The Right One' is the kind of timeless, life-affirming melodic fuzz rock that Alex Chilton and Teenage Fanclub have set (broken) hearts on fire with; 'Beggars' follows the same deft, folk path laid by 'Flaws' and with the Low-esque hymn, 'Fracture' and gorgeous album closer, 'Still' – just Jack, piano and an ocean of reverb – provide inlets of beatific calm amongst the album's more widescreen rock moments, 'Bad Timing', 'Leave It' and 'What You Want'.
Ahead of the release of their third album 'A Different Kind Of Fix' later
this month
, 
Bombay Bicycle Club
have made the second in a series of remixes of their lead single 'Shuffle' available as an embeddable stream over at their Soundcloud page. Following last week's Leo Zero remix,
this week
's comes from the ever brilliant 
Bibio
:
'A Different Kind of Fix' is released on the 29th August via Island Records. Counting down to release, the band will be showcasing a handful of brand new album tracks next Tuesday, 9th August via a live streamed acoustic performance in association with Bands In Transit.
The band will be setting-up in a secret location and performing exclusively for Bands In Transit. To view the performance visit the official 
Bands In Transit
website – 
www.bandsintransit.com
– from 1.30pm.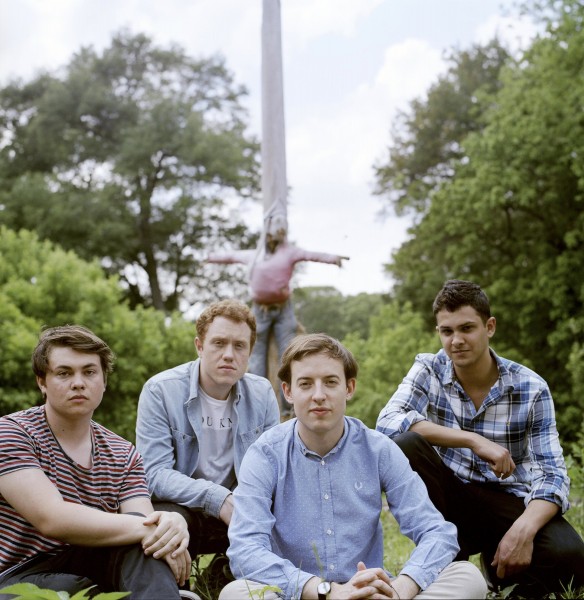 The official video for 'Shuffle' is also now available to view on the band's YouTube channel:
The band are set to play their biggest UK tour so far this autumn, dates are as follows:
Friday 30-Sep – Brighton Dome
Saturday 01-Oct – Newcastle Academy *
Sunday 02-Oct – Glasgow Barrowland
Monday 03-Oct – Leeds Academy *
Wednesday 05-Oct – Sheffield Academy *
Thursday 06-Oct –Hull University
Friday 07-Oct –Manchester Apollo
Sunday 09-Oct –Lincoln Engine Shed
Monday 10-Oct – Norwich UEA
Tuesday 11-Oct – Oxford Academy *
Wednesday 12-Oct – Bristol Academy *
Thursday 13-Oct –Birmingham Academy *
Friday 14-Oct –Cardiff University Great Hall
Sunday 16-Oct – Southampton Guildhall *
Monday 17-Oct – Nottingham Rock City
Wednesday 19-Oct –London Brixton Academy *
*All Ages shows (under 14 with adult)
All other shows: 14+