ACOUSTIC ALCHEMY @ Pizza Express
aaamusic | On 08, Jan 2012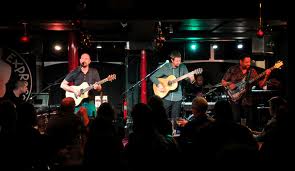 London, 22nd December
Over 25 years Acoustic Alchemy have become well established with a huge worldwide audience that tends to unite both adult and indie followers. Eclectically and creatively they fuse jazz, rock, funk, world, country and reggae.
Their line up is presently founder member Greg Carmichael (acoustic guitar), Miles Gilderdale (steel guitar), Greg Grainger (drums), Gary Grainger (bass guitar) and Fred White (keyboard).
A journey through past numbers like No Messin', Ariane and The Beautiful Game gives a feel for the strong influences and dramatic changes that have shaped Acoustic Alchemy. They've been innovative and adventurous in adapting to a very recognisable sound. There's something magical, infectious and mesmerising about them.
The set list included tracks from Roseland, their latest recording released on September 27, 2011. Roseland itself is an exciting and fast paced country instrumental whilst One For Shorty is a great cohesive, joyful and spontaneous jazz number.
In character Acoustic Alchemy are a little bit like a rose.  They've overcome considerable setbacks and tragedies to radiate colour and texture. They delight and continue to surprise with their strong and brilliant fragrance. Not only is there a warmth and beauty, but there are some useful sharp prickles around.  It's important to successfully defend them against those who, without justification, attack them for being sterile and clinical.
Anthony Weightman