THE BEVIS FROND – The Leaving Of London
aaamusic | On 21, Jan 2012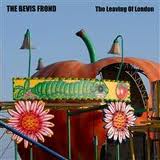 The Bevis Frond is a British indie classic rock group with a numerous back catalogue on various independent labels since the 1960's.
The 4 piece band comprises: Nick Saloman (songwriter and guitarist), Adrian Shaw (bass), Paul Simmons (guitar) and Dave Pearce (drums).
The Leaving Of London is their 20th album after a 7 year gap.  It's mixing of punk, folk and psychedelia makes it reminiscent of Hendrix, The Kinks, The Byrds and Elvis Costello.
With a familiar and welcoming feel, this album is the length of old-fashioned double album and has some beautifully played and personally inspired songs. There's great variety and a delicate balance between the songs which convey a melancholic, brooding frustration and those which are hard, energetic and up-tempo.  Amidst the fun, humour and idiosyncrasies, there's some excellent guitar work. This is a refreshing and underrated album by this long established and eccentric but relatively unknown cult band.
Tracks: 1. Johnny Kwango 2. Speedboat 3. An Old Vice 4. More To This Than That 5. The Leaving Of London 6. Hold The Fort 7. Why Have You Been Fighting Me? 8. The Divide9. Reanimation 10. Stupid Circle 11. Son Of A Warm Gun 12. Barely Anthropoid 13. Testament 14. You'll Come 15. Preservation Hill 16. Heavy Hand 17. Too Kind 18. True North.
Anthony Weightman