Eskimo Fandango – Record Shops EP
aaamusic | On 11, Feb 2012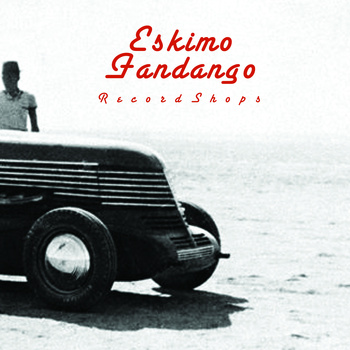 Eskimo Fandago are a new indie four-piece from Bradford, who came together in 2011, but perhaps more significantly, Eskimo Fandago is the new project of Luke Hirst. Beginning his career as a solo singer-songwriter, Hirst went on to release a solo album and form a folk duo Luke Hirst & Sarah Smout (who released an album sampler in 2010, and are still active). Hirst is the sole songwriter for Eskimo Fandago (at least for now), and this is very much his band.
'Records Shops' is their new five-track EP, and it's a collection of fairly lightweight but infectious indie-pop. Opener 'Springsteen' sets the template for the whole EP, with an incredibly strong melody carrying along simplistic pop-rock. The doo-wop tinged power-pop of 'Midnight Rock N Roll Droves' features dreamy "ooh lalas" and more developed guitar parts, with another strong melody in the chorus, plus a fitting mini guitar-solo. The title-track is the standout highlight, featuring the most memorable chorus and some attractive, understated fingerpicking alongside the cute verse. Hirst sings "And it's wonderful to be alive when the rock'n'roll plays on a Saturday night" with naive sweetness, channeling the unpretentious lyrical delivery of the indie bands of yesteryear – bringing to mind, for example, the new wave of Robert Smith and The Cure. 'Three Chord Sun' is agreeable, with a very slight surf-rock feel, recalling The Drums, but is the weakest track of the EP. Closer 'Burnt Out' kicks off with a nice, little drum intro, follows by an alluring guitar line before the dependable indie-pop-rock starts flowing.
'Records Shops' is certainly a fine EP, especially for such a young, unsigned band, but the music just isn't that exciting. It's somewhere between post-punk/garage-rock and pop-rock, neither capturing the gritty urgency of the former, and not quite fully embracing the accessibility potentials of pop-rock. That being said, the vocal performance is exceeding strong, and there are some massive vocal hooks – which kind of makes Eskimo Fandago feel like a mouthpiece for Hirst's singer-songwriter sensibilities, with the music essentially acting as a quiet vehicle for Hirst's vocals and lyrics. That being said, there's no denying that 'Record Shops' is rather lovely and enjoyable, but for their next release it would be nice if they expanded their formulaic approach, and offered a bit more variety – a few more instrumental flourishes and perhaps the occasional change of tempo.
Clive Rozario