M83, LFO and Sleigh Bells join San Miguel Primavera Sound 2012
aaamusic | On 03, Mar 2012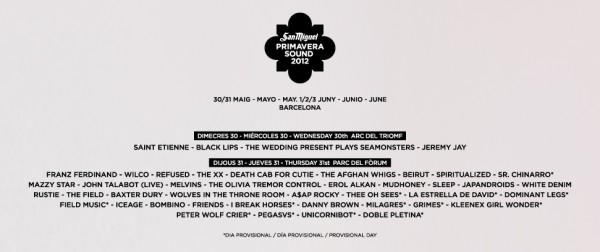 The new list of confirmed artists for the next San Miguel Primavera Sound includes some of the most exceptional names of last year. The Weeknd is one of the artists that everyone has been talking about due to his first trilogy of releases that push the boundaries of electronic music with a soul flavour. His concert at the festival will be his first European live date and he will be accompanied by a full-band. M83 is without a doubt another of them: their record "Hurry Up, We´re Dreaming" topped all the charts in 2011.
The American band Sleigh Bells will present their second album "Reigns Of Terror", Chromatics (flavour of the month thanks to their participation in the soundtrack of "Drive") and Purity Ring are other cutting edge artists who will be in Barcelona at the end of May.
Another draw of this edition will be the visit of Dominique A from France with a show in which he will present his new record accompanied by a wind section, with a total of ten musicians on stage. The mythical Marianne Faithfull, author of classics such as "Broken English", will be at Parc del Fòrum to brake down her tortured repertoire. LFO, an essential name in electronic music, have also joined the line up with a live show, a session by Jamie xx, member of The xx and an intrinsic part of the most ground-breaking dance sounds, and hip hop from Ultramagnetic Mc's the legendary formation that includes Kool Keith, and the rock band from America, The Men.
And to round off this batch of confirmations there will be maths rock from the Portuguese band Linda Martini, the stoner doom of A Storm Of Light, experimentation from Cuchillo, post hard core from No More Lies and folk from Lorena Álvarez Y Su Banda Municipal.