Diva Dompé release new tune "Cyborg Sweetie"
aaamusic | On 05, Mar 2012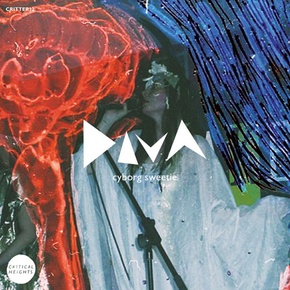 London-based label Critical Heights is proud to announce another new exclusive 7″ single for Record Store Day (21 April) from the astonishing Diva Dompé. Listen to the new track "Cyborg Sweetie" right here!
L.A.'s Diva Dompé returns with "Cyborg Sweetie", a heady push of chrome and fluorescence which tells a Deckard-like tale of unrequited "techno-love" that is addictive in the extreme. She is currently working on a new full-length Moon Moods, to be released later in the year. She'll be hitting the road in the States with the magnificent Sun Araw and stopping off at SXSW to play shows, including the Critical Heights showcase on Thursday 15 March at the Beal Street Tavern at 8pm.
"Cyborg Sweetie" is set in a post-apocalyptic police state with mutants, rebels, and technological experiments gone wrong. The police state and all the normals are desperately clinging to some definition of humanity by trying to oppress all the new life forms and humanoids hanging around. co-mingling between humans and these "others" is especially forbidden. But the rebels are looking to embrace the new world and move with the flow of evolution. They believe true humanity lies in love. This song follows the story of star-crossed lovers: a human rebel and a cyborg, and expresses their feelings despite all the opposition. though its rather tongue in cheek, it's really about all forbidden love, especially the kind that comes up against society and government. Let the infinite source of love flow free into this world in any shape or form!
Last year's marvellous full length, "The Glitter End", revelled in a psychedelic fug of tropicalia and analogue squelch; the first glimpse of new LP "Moon Moods" suggests our heroine has honed her pop dynamic with a gloriously melodic precision.Game's up. Truth's out. Fog's lifted. Diva's gonna rule 2012, apocalypto or not.
DIVA's US tour with Sun Araw, Matthewdavid, and M Geddes Gengras (SXSW dates highlighted in case you're going to be there!)
Tues 3/6 – Las Vegas @ Bunkhouse Saloon (21+)
Wed 3/7 – Tempe, AZ @ Meat Market (All Ages)
Fri 3/9 – Lubbock, TX @ Prairie …Fire Theatre (All Ages) (shout out to buddy holly!)
Sat 3/10 Marfa, TX – Dublab Festival
Sun 3/11 Marfa, TX – Dublab Festival
Thurs 3/15 Austin SXSW – Critical Heights/Fire Records showcase. Beale Street Tavern (8 pm)
Fri 3/16 Austin SXSW – The Smell/kxlu show at Domy Books 7:30 pm
Fri 3/23 – Boise, ID @ Treefort Festival
Sun 3/25 – Calgary, AB – MTT Festival
Tues 3/27 – Vancouver, BC @ Waldorf Hotel (16+)
Thurs 3/29 – Portland,OR @ Rotture (21+)
Sat 3/31 – Oakland, CA @ The Rec Room (all ages)
Sun 4/1 – Santa Cruz @ The Catalyst Atrium (16+)