LATITUDE 2013 LINEUP ANNOUNCEMENT
aaamusic | On 10, Apr 2013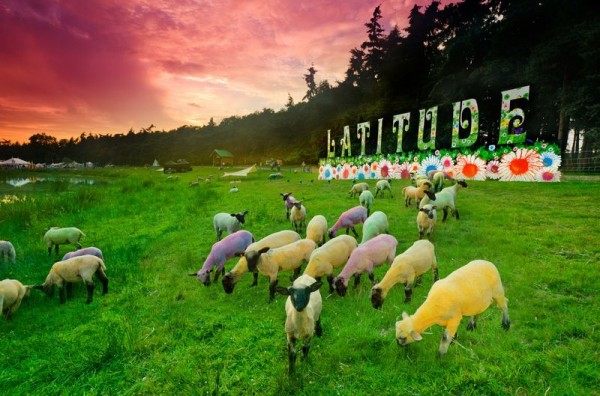 THURSDAY 18TH JULY – SUNDAY 21ST JULY 2013 HENHAM PARK, SOUTHWOLD, SUFFOLK
BLOC PARTY | KRAFTWERK 3-D | FOALS | THE MACCABEES | HOT CHIP
MODEST MOUSE | ALT-J |BEACH HOUSE 
Latitude, the UK's favourite multi-arts festival, and winner of the 2012 Best Family Festival Award, is proud to reveal the first line-up announcements for the eighth edition. The festival takes place from Thursday 18th to Sunday 21st July 2013 in the idyllic surroundings of Henham Park, Suffolk.
First to headline Latitude's magnificent Obelisk Arena on the Friday will be Bloc Party, whose recent triumphant return to form has been welcomed by fans and critics alike. On Saturday evening German electronic pioneers Kraftwerk will take to the stage, this performance will be a rare chance for festival goers to witness one of the most influential bands of all time performing their highly celebrated 3-D concert. Oxford quintet Foals have proven themselves to be one of the UK's most dynamic and accomplished bands of recent times, further supported by their Ivor Novello and Mercury Music Prize nominations and NME Award Best Song gongs. Known for creative precision, Foals are preparing a closing show to be remembered for years to come.
Yannis from Foals comments on their headline appearance:
"Latitude is always exciting, because they offer a very tasteful selection of acts. For our band, it's an honour to headline alongside someone of the calibre of Kraftwerk – they can do whatever they like, they're unique and you know they're going to put on an incredible show. Bloc Party will be fantastic headliners too."
Other special appearances across the music stages include exclusive UK festival performances from the heroes of the Tex-Mex sound Calexico, the sonically adventurous sister act, CocoRosie, and the only 2013 UK live show from dancefloor favourites Hot Chip and Mark Lanegan Band. Joining them with Latitude exclusive performances will be band of the moment, Rhye, whose slinky, sensual R&B pop is currently bewitching tastemakers, the transfixing The Tallest Man on Earth, one of 2013's most intriguing and sort after electronic acts Sohn, Brooklyn garage-maestros Yeah Yeah Yeahs and ever-evolving indie legends Yo La Tengo. In addition to these exclusives will be unmissable sets from Grammy-nominated Malian musician Bassekou Kouyate, Brighton indie darlings and NME Award Best Album winners The Maccabees, 2013 Brit nominee Jessie Ware, cult- status chanteuse Cat Power and electronic auteur James Blake.
Latitude is thrilled to announce an exciting new partnership with BBC Radio 6 Music, naming the second stage as the BBC Radio 6 Music Stage. This year the stage will host even more exciting musical treats including headline sets from Baltimore dream-pop duo Beach House in a UK festival exclusive; Portland's greatest musical exports, indie-rock stalwarts Modest Mouse; and Mercury Prize-winning Alt-J, whose performance on The Lake Stage in 2012 was a festival highlight. Other acts set to play on the coveted stage include math-rock maestros Everything Everything, the girl currently on everyone's lips, soul singer Laura Mvula, plus visually theatrical Swedish synth-pop duo IAMAMIWHOAMI and garage-rock perfection from White Denim both with UK festival exclusive performances; along with adventurous folk artistry from Villagers and much, much more.
Latitude is the event of the summer to see the very best in new music. If leftfield music is your thing, then the i Arena is the spot. Tucked away in Latitude's beautiful woodland area, this year the stage will provide a magically intimate setting for the headliners; gloriously chaotic of Japandroids, warped-electro hipsters Purity Ring and Moon Duo. The Lake Stage, curated by Huw Stephens, has played host to numerous 'next big things' and this year is no exception with headline performances coming from the master of beautiful folk balladry Benjamin Francis Leftwich, London indie-pop quartet Veronica Falls and hotly tipped Manchester foursome The 1975. Other must see sets include art-noise masters Bo Ningen and Australian rave revivalists Jagwar Ma.
TICKET INFORMATION
Tickets are now on sale, subject to booking fees. An instalment plan is available for fans who want to spread the cost of their Latitude weekend ticket between now and July, for full details head to www.latitudefestival.co.uk
Weekend adult tickets
Weekend accompanied teen ticket (13-15 years) Weekend child (5-12 years) tickets
Adult day tickets Fri, Sat, Sun
Child (5-12 years) day tickets Fri, Sat, Sun Campervan Permit
Locker
£182.50
£132.50
£5.00
£77.50
£5.00
£40-80 (dependent on size) £16.00
Weekend tickets prices include car parking and camping. Day tickets include car parking only.
For weekend accompanied teen tickets, all teenagers must be accompanied by an over 18. Teen tickets can only be purchased at the same time as an adult ticket.
Credit Card line: 0871 231 0821 Online: www.latitudefestival.co.uk • www.seetickets.com 
OBELISK ARENA
BLOC PARTY | KRAFTWERK 3-D | FOALS THE MACCABEES | HOT CHIP
BBC RADIO 6 MUSIC STAGE
MODEST MOUSE | ALT-J |BEACH HOUSE
EXCLUSIVE APPEARANCES FROM:
CALEXICO | COCOROSIE | IAMAMIWHOAMI | MARK LANEGAN BAND | RHYE | SOHN THE TALLEST MAN ON EARTH | WHITE DENIM | YEAH YEAH YEAHS | YO LA TENGO AND MORE
PLUS: AKRON/FAMILY | BASSEKOU KOUYATE & NGONI BA | BENJAMIN FRANCIS LEFTWICH BETH ORTON |BO NINGEN | CAT POWER | CHVRCHES | CLEAN BANDIT | DAN CROLL
DARK DARK DARK | DAUGHTER | DISCLOSURE | DRENGE |EVERYTHING EVERYTHING | EFTERKLANG FIMBER BRAVO | FRIENDS | HOOKWORMS | I AM KLOOT | JAGWAR MA
JAMES BLAKE | JAPANDROIDS | JESSIE WARE | JOSEPHINE | KING CREOSOTE | LAURA MVULA
LOCAL NATIVES | MALCOLM MIDDLETON |MARIKA HACKMAN MATTHEW E. WHITE | MIKHAEL PASKALEV |MOON DUO | MÚM |PURITY RING RACHEL ZEFFIRA | SERAFINA STEER| SINKANE | STEALING SHEEP | STEVE MASON SWEET BABOO | SWIM DEEP | TAMIKREST |TEMPLES |THE 1975 | THE BOTS VERONICA FALLS | VILLAGERS | WAVE MACHINES
WIDOWSPEAK | WILLY MASON | YOUNG WONDER
COMEDY AT LATITUDE
DYLAN MORAN| DANIEL KITSON| TIM KEY| SEANN WALSH |MARK WATSON
LEE NELSON |MARCUS BRIGSTOCKE's POLICY UNIT |JOSH WIDDICOMBE CHARLIE BAKER | THE HORNE SECTION | JAMIE KILSTEIN | KERRY GODLIMAN | KATHERINE RYAN
SIMON EVANS | SARA PASCOE | JAMES ACASTER | JOEL DOMMETT | BRETT GOLDSTEIN MARCEL LUCONT | ROMESH RANGANATHAN | ELIS JAMES | THE NOISE NEXT DOOR
TIFFANY STEVENSON | IDIOTS OF ANTS |HENNESSY & FRIENDS | LORETTA MAINE
THE SUNDAY ASSEMBLY | HOLLY WALSH | LUISA OMIELAN | ED ACZEL | SHEEPS
BRYONY KIMMINGS |DANIEL SIMONSEN | VIKKI STONE| MCNEIL AND PAMPHILON | ALFIE BROWN SAM FLETCHER | PAT CAHILL | MAE MARTIN | LUCY BEAUMONT | RICH & ANDY
BEN TARGET | ANDREW RYAN | NISH KUMAR | CHRIS KENDALL | DAVID TRENT
JENNY FAWCETT | HOLLY BURN | JOHN ROBINS | SUZY BENNETT | AISLING BEA TOM DEACON |ED GAMBLE |ROB BECKETT | JOE LYCETT | MATT REES | AUSTENTATIOUS
CHORTLE STUDENT AWARDS | MONSTER COMEDY SHED MORE ACTS AND VERY SPECIAL GUESTS – TO BE ANNOUNCED
THEATRE AND DANCE
NATIONAL THEATRE WALES AND NEON NEON | SADLER'S WELLS PRESENT 'ROCÍO MOLINA' DANIEL KITSON | ROYAL EXCHANGE THEATRE| OCKHAM'S RAZOR
NATIONAL YOUTH THEATRE | BAC | MADE IN CHINA | FOREST FRINGE | CLEAN BREAK THE WRONG CROWD | PEEP | DRYWRITE | CURIOUS DIRECTIVE
THE PLEASANCE |FUEL |ARWC |DANCE EAST |DIRTY PROTEST | DANIEL BYE | BOO DWYER
LYRIC HAMMERSMITH, GREENWICH+DOCKLANDS INTERNATIONAL FESTIVAL, WATFORD PALACE THEATRE AND LATITUDE PRESENT RASH DASH, TANGLED FEET, PIN THE TALE, PINS & NEEDLES
PLUS MANY MORE COMPANIES TO BE ANNOUNCED
ARTISTS
DAVID SHRIGLEY | ALAN MOORE & MITCH JENKINS| TIM WALKER THE NATIONAL GALLERY PRESENT 'TITIAN ON TOUR' | DAVID SHILLINGLAW
FILM AND MUSIC
DANIEL KITSON FILM PLUS Q&A | JEFFREY LEWIS & THE RAIN | ICA PRESENT BOWIEFEST REVEREND BILLY & THE CHURCH OF STOP SHOPPING | SNARKY PUPPY | CROOK AND FLAIL
ULTIMATE BOWIE |GAVIN OSBORN | TOTAL FILM Q&A
POETRY ARENA
CAROL ANN DUFFY | MURRAY LACHLAN YOUNG | LIZ LOCHHEAD THURSTON MOORE |DANIEL KITSON & GAVIN OSBORN |DON PATERSON |MICHAEL ROSEN
LUKE WRIGHT | ROSS SUTHERLAND | TIM CLARE | THE ISLANDERS | JOHN OSBORNE | STEVE ROGGENBUCK APPLES AND SNAKES | DEAD POETS |KATIE BONNA | POEJAZZI | BYRON VINCENT | INTENSI-T
TIM TURNBULL | CAROLINE BIRD | HOLLIE MCNISH | WILLIAM LETFORD | JO BELL | MIKE GARRY LITERATURE
GERMAINE GREER| JONATHAN CAINER | JEREMY DYSON| WORDTHEATRE
ROBIN INCE's 'DIRTY BOOK CLUB' | SALON LONDON | THE LAST TUESDAY SOCIETY TRACEY THORN | WILL STORR | JOHN TAYLOR | MATT HAIG | DAWN O'PORTER| IAN ROBERTSON BEFORE THEY WERE FAMOUS |FESTIVAL OF THE SPOKEN NERD WITH HELEN ARNEY AND STEVE MOULD SELFMADE HERO: GRAPHIC NOVEL DISCUSSION WITH GLYN DILLON, JOFF WINTERHART, CORBAN WILKIN CHAIRED BY TOBY LITT
CABARET/LIVE ART
CARNESKY'S TAROT DROME
BOOM TISH CABARET | BOOGALOO STU | FANCY CHANCE | BORIS & SERGEY | SWING PATROL ARTWANK | EGGS COLLECTIVE | RICHARD DEDOMENICI | BRIAN LOBEL
LATE NIGHT DJ'S
GUILTY PLEASURES | BUTTONED DOWN DISCO |SINK THE PINK | DISCO SHED
THE LAVISH BIG SCREEN | LATE JUNCTION
THE CHILDREN'S ARENA | THE INBETWEENERS TEEN AREA | TOUR DE LATITUDE