Tom Paxton – Live @ The Union Chapel, Islington
aaamusic | On 29, Apr 2013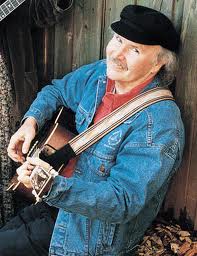 Friday 26th April, London
American singer-songwriter Tom Paxton has been writing, recording and performing folk music since the sixties and this particular evening he was helped by the inventive and intimate Celtic artist Robin Bullock who began with two numbers from his latest album Majesty and Magic.
Your Shoes, My Shoes, nominated in the 2003 Grammy Awards for Best Musical Album For Children, took the audience on a civil rights journey with Martin Luther King and Rosa Parks. Tom Paxton's songs about justice and compassion are internationally recognised and he reflected How beautiful upon the mountain are the steps of those who walk in peace.
Sad songs like The Names Of Trees, about age and forgetfulness, and Whose Garden Was This?, concerning the vulnerable nature of the earth, both seemed as relevant now as when they were first written. "The phenomenon of daughters I love so much" was revealed by Tom in Jennifer & Kate.
With his typically joyful humour Tom joked about the last few weeks that W.C. Fields spent in bed. When asked why he sometimes read the bible Fields replied "looking for loopholes." Tom also clarified that "Grammy nominated" really meant "you've lost."
Tom's classic hit The Last Thing On My Mind has been frequently covered, memorably by Johnny Cash and Neil Diamond, and remains an excellent example of his natural gift with the language of song writing.
In 2009 Tom Paxton received a Grammy Lifetime Achievement Award. As a music legend with a huge back catalogue of albums and music covering over 50 years he remains a highly respected and loved artist who's inspired many fellow musicians.
Anthony Weightman