Ghostpoet – Live @ Village Underground
aaamusic | On 01, Jun 2013
Thursday May 30th, London
The first time I saw Ghostpoet – aka Obaro Ejimiwe – was at a shambolic little day festival in East London in 2011 called Streetfest, where music was secondary to the main events of street sports and graffiti art. Ghostpoet, playing a couple of slots beneath headliners The Nextmen, was plagued not only by a stage manager eagerly trying to usher him off (for next billing Wretch 32), but also endless technical problems thanks to his Mac, an 'instrument' that also gave him trouble later in the summer at Sonar. Although noticeably agitated, Ejimiwe was shy, almost nervous. His appearance was that of an everyday man – a little soft around the edges – and he was softly spoken. Musically, it was underwhelming, with the majority of the sound coming from his laptop (although a live drummer-guitarist combo added a certain edge). Vocally, his was stirring, but he lacked confidence.
Two years on (almost to the day) and Ghostpoet has sold out the Village Underground, and has just announced a Hackney Empire date. Tonight, he is a different beast altogether. Ditching the laptop, he now has a full band, a simple but effective light show, and a thousand times the confidence – his warranted success has unlocked his natural charisma, energy and humble humour. Plus, he's lost a lot of weight (in fact, he's pretty damn stacked!).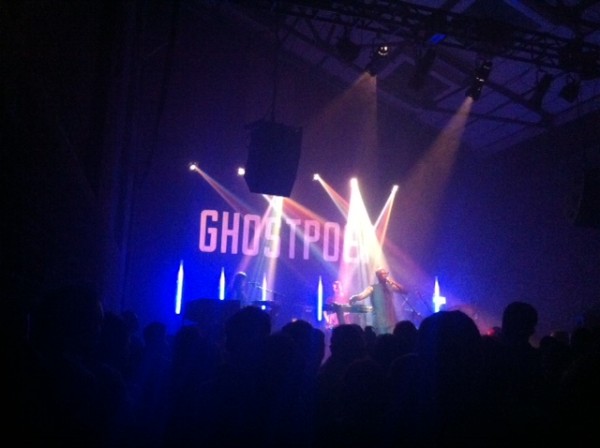 From the moment he opens with the slow-burning 'Gaaasp' – from his first, Mercury nominated album Peanut Butter Blues & Melancholy Jam – the evolution to his live performance is evident. Whereas before it was all about his vocals (which remain a mix of warm soul and intelligent, urban spoken-word), tonight the music is as important, with the live instrumentation enhancing the subtleties of his bedroom productions. After this first song he announces to the packed, adoring crowd: "I really didn't think anyone was going to be here." That timid newcomer from Streetfest 2011 is still lurking somewhere within him.
Ghostpoet treats the Village Underground to a (near) even mix of old and new. After a rendition of oldie 'Garden Path', he plays four cuts from his latest album Some Say I So I Say Light: the dark trance of 'Them Waters', the jangle-laced 'Plastic Bag Brain', 'Dial Tones' (for which the ethereal Lucy Rose joins him), and the post-dubstep of 'Cold Win'. The older tracks – such as the following triplet of 'Survive It', 'Liiines', and highlight numero one 'Cash and Carry Me Home' – are significantly intensified by the new live instruments, particularly the keys and female backing vocals.
He then round off the main set with four highpoints from his new album: the dark, triphop of 'MSI musmiD', the brooding 'Slot Trot' (for which he dons a guitar to break out some post-rock), highlight numero two 'Meltdown' (joined by Woodpecker Wooliams herself), and an exhilarating rendition of 'Comatose'.
After considerable rapture from the crowd, Ghostpoet remerges for the encore – again looking confused as to his whereabouts – and storms through a rousing, jazz-bar tinted 'Finished I Ain't' and the experimental hiphop of 'Us Against Whatever', both fan favourites from his debut.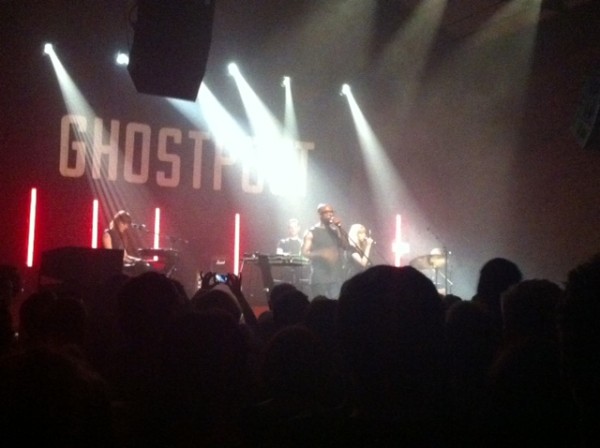 Although the Village Underground is just around the corner from the Streetfest location, and he's just two years past that 2011 event, this Ghostpoet performance…no, this Ghostpoet artist…is already a million miles and light years away; the two Ghostpoets would be unrecognisable if it were not for that lingering, endearing humility.
The day after the show, Ejimiwe tweeted: "London London London Town…what a gig, I'll never forget it…I feel like I'm evolving as a artist, I felt so calm last night…at peace with myself, excited for the future maaaan." I couldn't agree more.
Words: Clive Paris Rozario
Photos: Stephanie Hollox
SETLIST:
1. Gaaasp
2. Garden Path
3. Them Waters
4. Plastic Bag Brain
5. Dial Tones
6. Cold Win
7. Survive It
8. Liiines
9. Cash and Carry Me Home
10. MSI musmiD
11. Sloth Trot
12. Meltdown
13. Comatose
Encore
14. Finished I Ain't
15. Us Against Whatever
Check out this footage from Ghostpoet's set at Streetfest 2011: