A CHAT WITH: KYLE EASTWOOD
aaamusic | On 14, Jun 2013
Jazz composer and musician Kyle Eastwood studied film at the University of Southern California before deciding on a career in music. He released his first solo album From There to Here in 1998 and is the son of film producer and actor Clint Eastwood. His sixth album, The View From Here, was released in 2013 on the Jazz Village label. AAAmusic interviewer Anthony Weightman chatted to him after the last night of his residency at Ronnie Scott's in London.
Anthony Weightman (AAAmusic): I thought it was a great evening. I feel it's gone well when the music takes you somewhere else and finally you're returned to planet Earth. How do you feel this week has gone at Ronnie Scott's?
Kyle Eastwood: It's been great. I think it's more or less been sold out every night, so the crowds are always good. It's one of my favourite places to play. It's a great sounding room with a lot of history. Also great staff. You can't ask for more than that.
Anthony Weightman: Next month you're off to Japan. Are you looking forward to it? How do you find playing there?
Kyle Eastwood: Yes, it's our next run of gigs. The Blue Note. It's another great place to play. Ronnie Scott's and there are probably amongst my top places to play. Getting them both in a short span of time. That's good.
Anthony Weightman: People who meet you sometimes describe you as charming. I often feel charm is a bit of an allusive quality. To you, are there things about the world of music that lack charm?
Kyle Eastwood: Well, I guess the business side is not always. I mean, the travelling and moving through airports is not exactly charming. Sometimes staying up late and getting up early. The playing part is fun.
Anthony Weightman: There are no Clint Eastwood questions in this interview, incidentally.
Kyle Eastwood: There aren't? Wow! That might be a first!
Anthony Weightman: I know you met Count Basie and Stan Getz as a child and you've said that their sounds were unusual for a young boy to be attracted to.  Do you think there are any limitations to what a young child can appreciate? Can they love any type of good music, given encouragement and the right environment?
Kyle Eastwood: I'm sure some people are more in tune with some types of music than others. They appreciate some more than others. But, I don't see why not. Count Basie was particularly swinging and powerful. A sheer wall of sound. So dynamic. I remember being quite impressed. Probably the first concert I ever went to. I heard that music around the house and my parents were listening to it all the time.
Anthony Weightman: Sometimes, with jazz musicians, there the more experimental numbers that committed fans appreciate but also the more accessible songs that a potentially new fan might like. Do you feel that getting the balance right in the set list can be a bit difficult?
Kyle Eastwood: I think there's definitely something to getting a nice shape in a set. A nice balance. Even in writing music for an album and composing. I like strong compositions, but then room for improvisation as well. For me, it's all about getting the balance.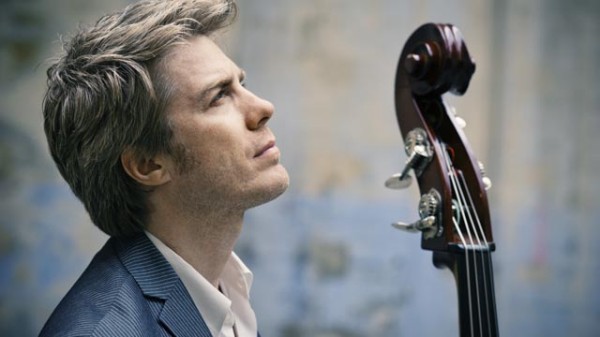 Anthony Weightman: You've said you're a fan of the spiritual sax player John Coltrane, at the forefront of free jazz. Terry Callier remembered being locked into a club and listening for almost 4 hours to his impressions before he returned to the melody. Elvin Jones thought the longest session was a club in Philadelphia. Do you have any amusing John Coltrane stories?
Kyle Eastwood: Well, I certainly love his music. I appreciate all of his phases. His impressions and the music he was making with Miles earlier in the 50s…I think he was a major innovator on saxophone. He's influenced so many musicians, horn players especially. He's definitely up there as one of my favourites.
Anthony Weightman: I think you're also a Dave Brubeck fan. I love the story that he proposed on his first date with Lola Whitlock and they remained married for 70 years. It paints an idyllic picture that many would like to follow. How many music celebrities are likely to beat that record, do you think?
Kyle Eastwood: I don't know. Not too many, actually. In general it's pretty impressive.
Anthony Weightman: I know you're a Marian McPartland fan, the jazz pianist and composer. Women have been involved with jazz throughout it's history but some feel that their achievements are often not as well publicised as those of men. Do you feel that's true or do you think that's a misconception?
Kyle Eastwood: I met her and played with her once. I did a radio show. It's been a while. 10 years ago. Yes, she was great. I guess it's more of a male dominated sport in some ways. But, there's certainly quite a few great female players on all instruments. Ella Fitzgerald and other vocalists were some of my favourites.
Anthony Weightman: You say you live in Paris because you like the city, you have a daughter there and its convenient to tour in Europe. In the past some jazz artists have gone there to record and their international careers have simply exploded. Tania Maria is an example. So, what is it about that place? Is there something in the water?
Kyle Eastwood: I was working there and living in New York. I was playing in Europe regularly. So, I met musicians there and in London. It was kind of a change. I'd been living in New York for about 7 years. I decided to make the change for a while and see how it went. The audiences are really great and appreciative of jazz. There are some great musicians there.
Anthony Weightman: I understand the 1st Nashville Jazz Festival is now proposed. From humble beginnings some jazz festivals do go on to become major international events.  Do you have your own view of which locations work and which don't.
Kyle Eastwood: I don't know. That's a good question. I guess Montreux is an old one. Monterey California is probably one of the oldest ones in the United States.  So, it's a tricky one because a lot of them fold, as do jazz clubs in general. If they last more than 10 or 20 years, that's rare.  There are hubs of jazz in New York and New Orleans where there are a lot of musicians. Probably helps.
Anthony Weightman: Probably there aren't many people here tonight who don't like jazz, but there are those who feel that way for some reason.  They say it's aloof, self indulgent, intimidating or a some discordant noise they feel they just can't relate to. How do you feel about those sort of criticisms?
Kyle Eastwood: I guess some of them can be valid. Maybe. I don't know. I think some people maybe haven't given it a chance. They should give it more of a chance and there are a lot of different styles in jazz. Jazz isn't particularly one thing. There are styles of jazz that are more accessible to some people than others.
Anthony Weightman: Has there ever been one specific piece of advice that stands out as being the most important ever given to you as a musician?
Kyle Eastwood: My father said just be dedicated to what you do and what you love. Work hard at it and be serious about it. Have fun, but be really dedicated.
Anthony Weightman: Is there anyone you'd like to play with that you haven't played with so far? You once said Stevie Wonder.
Kyle Eastwood: He definitely would be one. Maybe Wayne Shorter, who I've met but we've never had a chance to play. He's one of my favourites. I love playing with lots of musicians who play differently and you learn different things. It makes you think outside your box when someone plays in quite a different style.
Author: Anthony Weightman
Check out our review of Kyle Eastwood live at Ronnie Scott's here…