BILL KIRCHEN – Seeds And Stems
aaamusic | On 21, Jun 2013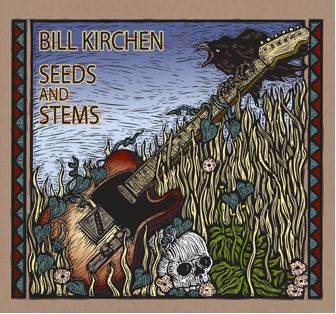 'Titan of The Telecaster' musician Bill Kirchen,  an American rockabilly guitarist, singer and songwriter, was a member of Commander Cody and His Lost Planet Airmen in the 60s and 70s. He's founder of the 'twangcore movement' which includes Wilco, Dave Alvin and Big Sandy.
Seeds And Stems is  released in the UK on  24th June,2013 on the Proper Records label. It was recorded in London during the middle of a UK tour and Bill Kirchen was helped by Maurice Cridlin (bass) and Jack O'Dell (drums, percussion, vocals) and Austin de Lone (piano, organ).
The energetic rock of 'Too Much Fun' is a fine beginning to the album. 'Hot Rod Lincoln', a versatile guitar show-piece, tells an 8 minute history of the guitar and piano through Johnny Cash, Buddy Holly, Roy Orbison, Johnny Rivers, Marty Robbins, Duane Eddy, Carl Perkins, Buck Owens,  Merle Travis, The Ventures, Fats Domino, Deep Purple, Muddy Waters and Chuck Berry.  It's shortened from the 20 minute live version! The melancholic 'Down To Seeds and Stems Again' is sleepy and sweet. 'Rockabilly Funeral'  is about a man's humorous request to buried in his Cadillac with a Fender telecaster across his chest and a Wurlitzer jukebox playing.
Bill Kirchen's distinctive 'dieselbilly' sound embraces blues, country, western swing and boogie woogie. His fun album includes the themes of American truck driving music. It will be popular amongst fans who are keen to experience this fresh look at his favourite songs, some of which go back to the beginning of his 40 year career.
Anthony Weightman