THE JAR FAMILY – Jarmalade
aaamusic | On 29, Jul 2013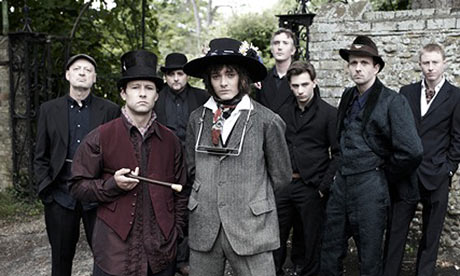 The Jar Family –  a collective of musicians and songwriters –  just released their second album Jarmalade. The name of the band comes from the jar where they used collect money after the gigs and then give to the member of the band who needed it the most.
The record opens with the brand new single 'Machine' a rock-garage piece with a touch of synth that seems to come straight form the early 90s; the words give back a feeling of Muse's 'Exo-Politics' and if this is the icebreaker song, it'll make you realise what the band mean by Industrial Folk, which is how they auto-dubbed their sound.
'Sadie' is a slow ballad that starts off with Bianco's husky voice, an acoustic guitar keeps him company until the electric starts dominating, accompanied by a reminiscence of sounds from the 80s. When it comes to 'Is God My Witness' the tones are quieter, the atmosphere is more intimate and the harmonica gives away the folk rhythm.
'Spreading out The Pain'  has a scratchy and disharmonious sound, powerful bass that will seriously test the quality of your earphones. Bianco's voice is slow, he barely sings, it's almost like he's talking on the steady rhythm of the hypnotic percussions. Last bit is the electric guitar in the background, constantly present in this experimental tune.
The band consists of Max Bianco (vocals, guitar, harmonica and percussion), Dali (vocals, guitar, slide guitar and percussion), Al Devon (vocals, guitar and percussion), Richie Docherty (vocals, guitar and percussion), Chris Hooks (vocals and lead guitar), Keith Wilkinson (bass and vocals) and Kerry Edwards (cajon).
Keith Wilkinson produced this second album after he collaborated with them on their début The Jar Family Album, while John Cornefield – who has collaborated with big names such as Oasis and  Muse – was in charge of mixing.
They are currently touring around UK to promote this new record.
Monica Guerrasio