AAA Music Approved: Meital Dohan
aaamusic | On 06, Sep 2013
MEITAL: I'm a superhero born on a far off planet called Dohanus. That's not Uranus; it's Dohanus. It's like more powerful than the sun, and people dance more than they do on planet earth. They dance naked. Oh the truth you say? Well, I was born in a small village in Israel and took a rocket ship to Hollywood. I've been acting in TV, Film and on the stage since I was a teenager.
AAAmusic: What inspired you to get into music?
MEITAL: I have a spiritual guide/healer I work with in Israel who is very inspiring. I met with her and she randomly told me that I need to be making music, and that was my charge.  At first it surprised me, but then when I came back to LA I was at a party and met Che Pope, my producer, and everything just fell into place from there. It all felt really organic from there and we just kind of ran with the creative process from there. In terms of genre, I try to not constrain myself but I think my sound is a mix of dance-pop-and hip-hop. We're living in this post-race, post-genre, post-category world when everything is a big mishmash.
AAAmusic: What have you done?
MEITAL: I've been concentrating on world domination in 2013, so I've been keeping myself plenty busy. This year you probably hear 'ON YA' featuring Sean Kingston, which was just a total blast working on. My new single 'Give Us Back Love' is charting in the UK and I'm releasing my new music video for it later this summer. Besides for my music, I'm proud of my contributions to the social world. I'm involved in this charity called Friends of Sheba. It's the largest medical center in the middle east that serves people of all races, religions and color. I want to use music and my platform as an artist to bring peace and good to the world.
AAAmusic: What are you like live?
MEITAL: Like the best you ever had. No show is the same as the previous one. I try to always challenge myself to create something that feels new to me, so that the performance aspect never gets stale. I'm known to interact with my audience, whether that means bringing them on stage or doing the samba with them in the audience.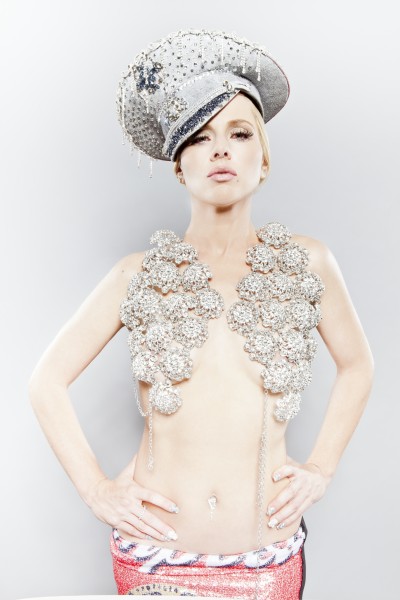 AAAmusic: What makes you different?
MEITAL: I think it's impossible to be the same, so being different has always come really easy to me. I like the intersection of humor, sex and high-art. To me thats where creativity really reigns. I also like to make social commentaries.
AAAmusic: Physical vs Downloading vs Streaming…How do you listen to music?
MEITAL: Well, first of all, music sounds amazing on Vinyl. I totally get off on playing something old like a Nina Simone record on a record player. In terms of where music has gone digitally, I think artists need to embrace it on the net …
AAAmusic:What have you been listening to?

MEITAL: There's so much that I'm into right now. Really digging the new Kanye West album and also Chance the Rapper is huge new taken tin hip-hop. It's summer so I'm listening to a lot of brazilian music and really digging Marcos Valle, this incredible Brazilian instrumentalist. I love the XX, Prince, Portishead and my new remixes of new single 'Give Us Back Love'! Soon to come out so ya'll can all listen!
AAAmusic:What are your aspirations for the future?
MEITAL: In terms of what's next, stay tuned for my new music video, 'Give Us Back Love'. The track is a prayer to return to the values of love and light to bless this universe.
 Meital's single 'Give Us Back Love' is out on the 15th of September…
Questions answered by: Meital Dohan…